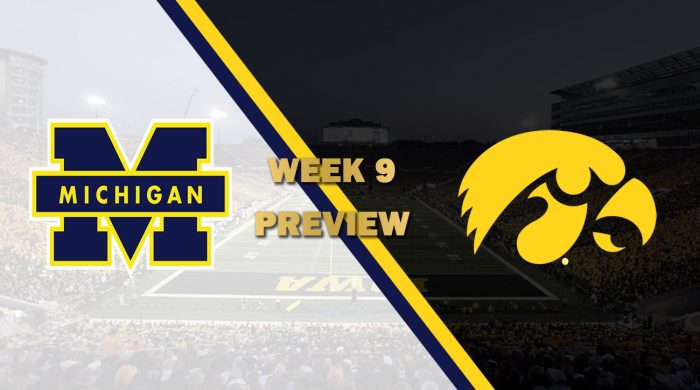 WEEK 9 PREVIEW: #1 MICHIGAN vs #4 IOWA
By: HornsNation05
In what game be the biggest game of the year, the Wolverines of Michigan head to Iowa to take on the Hawkeyes.
Michigan heads into this game after an impressive win over Tennessee. Leeroy Jenkins ran all over the Volunteers defense for 193 yards rushing. He also scored two touchdowns and caught five receptions for 42 yards. Nate "The Judge" Jones led the Michigan defense with 11 tackles with two for a loss. He also had a forced fumble and one pass deflection. Michigan is stout on both sides of the ball when it comes to rushing the ball. The Wolverines rank 2nd in rushing offense and 1st in rushing defense. Where this offense lacks is in the passing department. Michigan is currently ranked 9th in the league with 211.3 yards per game.
Iowa rolls into this league on a four game winning streak. A big part of that is the play of Bob Smith. Smith, a running back, rushed for 192 yards last week with two touchdowns. He currently leads the league in rushing yards with 1465, and has score 18 touchdowns so far. Giving him the ball with be Justin Meis who struggled last week completing the ball. Meis was only able to complete 10 passes for 48 yards. Iowa will need Meis to play much better today as they do not want to fall behind Michigan early.
---
---
WHAT TO WATCH FOR
IOWA RUN OFFENSE vs MICHIGAN RUN DEFENSE
Both of these teams are very good at what they do, run the ball and stop the run. Iowa ranks 1st in rushing the ball with 306.4 yards per game. Opposing this rush defense will be Michigan who ranks 1st in rushing defense with 129.9 yards allowed per game. This game will come down to who can stop the run and who can pass the ball. Both quarterbacks are similar in numbers when it comes to rushing. Mack and Meis both have over 900 yards rushing on the season and it will be interesting to see who can get to 1k first.
Running back Bob Smith leads the league in almost every category including yards per carry at 7.4. Leeroy Jenkins of Michigan is slightly behind him at 6.2 yards per game.
---
---
KEY MATCHUP
MICHIGAN LB Nate Jones vs IOWA HB Bob Smith
Leading this powerful Michigan defense will be the Judge, Nate Jones. Jones currently tied for 4th this season in tackles at 73. Going to his court to plead his case will be Bob Smith. Smith, known as the wrecking ball, leads the league in almost every rushing category. If Jones can stop Smith early, it will force Iowa's hand to pass.
---
---
QUOTABLE QUOTES
"Shut down Mack running and passing and yes, we win lol … Team will have to play aggressive defense and fly to the ball … I believe we can move the ball vs their D … we need to control the ball and the clock and we can win this … minimize turnovers" -Woodsmall, Iowa AD, on tonight's matchup.
---
---
OUTSIDE SCOUTS TAKE
"Tonight is a game that will shed a lot of light on the question of where Iowa stands among the rest of the teams. If Iowa can pull the upset tonight they can rightfully take their place among the league's best. In the event they cannot pull the upset, then they risk once more falling back into the anonymity that is the bottom of the league's rankings. Both teams boast a dangerous run game that helps give a strong possibility of this becoming one of the most entertaining games that the CFSL has ever seen."
---
---
PREDICTION
This is a huge game for both teams. Iowa trails Michigan in the standings by two games with four games to play. If they can beat Michigan, it could make things interesting for the top bowl game at the end of the season. If Michigan wins, they all but clinch the Big Ten division. This game will come down to the quarterbacks and who has the better day passing the ball. I see Michigan winning a close game and ending Iowa's winning streak.
MICHIGAN 24, IOWA 21