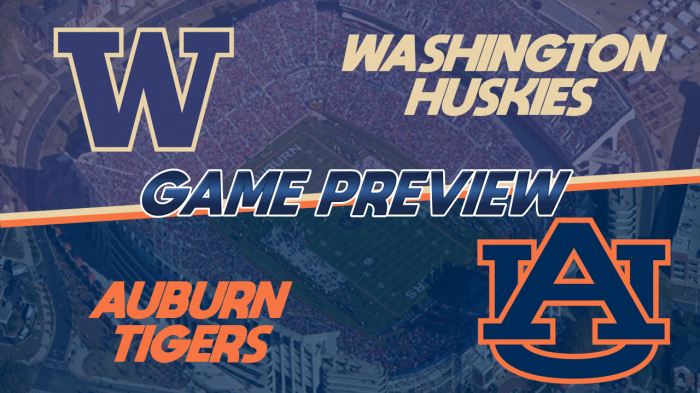 Ah, here we go, the titular matchup for tonight's festivities. Look, the Huskies want to end Auburn's three game win streak and deal the first loss of the season to the Tigers. While Washington has had some up-and-down moments this season, they're 2-1, so mostly good things have happened. But this is a tough task for both teams. Let's break it down to see who gets the victory.
WASHINGTON
The Huskies come into this game feeling good after the win last week. After all, this offense looked electric a week ago. Quarterback Doug Ohle had two rushing touchdowns with 68 rushing yards on 11 carries. Ohle then added on 249 passing yards with a touchdown through the air, offset by a lone interception. Then there was halfback Ron Dayne Jr., otherwise known as "The Great Dayne." Dayne took 27 carries for 150 yards and three rushing touchdowns. It was an impressive day. Wide receiver Matty Rose's two catches for 109 yards and a touchdown were equally impressive. These three players all have major explosive capabilities and that's just what was heavily shown last week. Don't sleep on this offense.
The defense wasn't too shabby, either. Linebacker Dejounte Wilson recorded 11 tackles, four of which went for a loss. Then there was defensive end Richard Bradley who tallied six tackles, two for a loss, and a sack of his own. This defense played exceptionally well, especially standing strong on fourth down and giving the offense more possessions. The Huskies forced TCU to go one of four on fourth downs a week ago. This defense will need to ramp their play up to force fourth downs again tonight.
AUBURN
Well, this offense looked really good on the ground a week ago. Halfback Billy Carter saw 30 carries go for 150 yards and two touchdowns, while quarterback Griffin Jelkic added 85 yards on 16 carries with a touchdown of his own. The bigger surprise though, was Jelkic's ability to show off the arm. Jelkic went 18 of 22 passing for 137 yards with two passing touchdowns in the victory. While receiver Wayne Carter has been quiet the rest of these receivers have not been. But, this offense seems to rely solely on their ability to run the football and so far, they're 3-0 as a result.
This defense has been impressive at every turn this season, but now they're in for a major test. So far, they've faced teams that are either getting their offense figured out, or are primarily one-dimensional. That is far from the case tonight as Auburn holds their first home game. Corner LaRoi Sanders made a house call with an interception, scoring six points, and added a pair of tackles. Safety Ollie P. Peters racked up 14 tackles of his own and corner Jesus Kitchens nearly ran a kickoff back. This defense is not to be trifled with or taken lightly.
WHAT TO WATCH FOR
If I'm Washington, I'm running this offense through Dayne tonight and dare this Auburn secondary to come downhill and face him head on. Auburn has the talent to do it, but it's definitely not their strong suit. If Washington can pound the ball at this defense, Dayne should be reaching the third level on a regular basis, which puts pressure on this secondary to find a means of limiting big plays.
KEY MATCHUP
HB Ron Dayne Jr. v. HB Billy Carter
Here's the deal, these two halfbacks are one-man wrecking crews. They are just as likely to slip past a defender as they are to bowl him over. These two had similar numbers last week, and something tells me whoever has the better game tonight will be a big part as to why their team is able to claim victory. It's going to be fun to watch these two halfbacks work their magic.
PREDICTION
I'll be honest, I really don't know who's going to win. Both teams have a lot to offer and bring a lot to the table. The Huskies can utilize the ground game or try to test the Auburn secondary. Auburn's got a nasty defense and a running stud, but we also saw that Jelkic can make plays through the air too. Between the two teams, Washington has the edge on offense, but gotta give Auburn the defensive edge. Buckle up kids, because this game, is going to be a show that you won't want to miss.