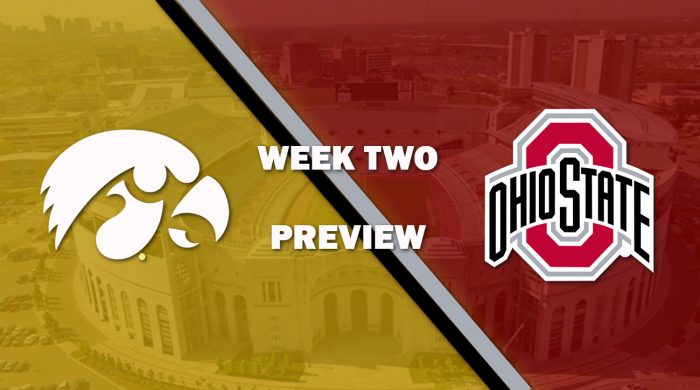 Iowa looked in control of their week one game against Auburn leading 10-0 midway through the second quarter. Then a pick six from walk on cornerback Tyree Fine changed momentum. Iowa dug their heels in, though, and kept the Tigers at bay. It took two late, fourth quarter drives from freshman quarterback Blake Moon to upset the Hawkeyes at home. The loss was heartbreaking for the Hawkeyes but their spirit remains strong heading into a pivotal matchup with Ohio State.
The Buckeyes rolled to an easy victory over an out-manned Florida State team in the league's opening week. Player of the Year candidate Jay Smith totaled 315 yards of total offense and three TDs and the defense held Florida State to four field goal tries. The Buckeyes will get their first test of the season, though, against an Iowa defense that held what was expected to be a potent Auburn offense to 10 points (and scoreless through three quarters).
What to Look For
Iowa's defense looked impressive and Ohio State's offense looked unstoppable. This game is likely going to be decided by Iowa's offense and Ohio State's defense, however. Can Iowa quarterback Justin Meis continue to be a dual-threat option (127 yards rushing vs Auburn) against the Buckeyes? Or will he be able to pick apart an Ohio State defense that features only two star-level defenders in the secondary? Defensively, Ohio State is going to need to contain Iowa's running game (249 yards vs Auburn) and get pressure on Meis to protect their secondary. The good news for Ohio State is that they have a powerful front seven that is capable of doing just that.
Key Matchup
Iowa WRs vs Ohio State DBs
Derek McFadden is a potential game breaker at wide receiver for Iowa. However, he will likely be guarded by Ohio State's formidable corner Brandon Palacios. That leaves Iowa receivers Clint Barton and Alex A Cook against a pair of walk on corners with only one star level safety (SS Marquis Mack) to help out. Look for Iowa to find the better matchup and to try and exploit it early and often.
Prediction
Iowa 24, Ohio State 20