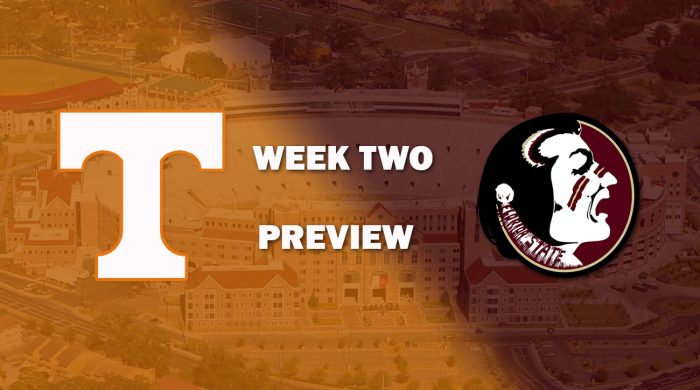 Tennessee and Florida State both come into week two off of losses in week one. The two teams arrived at that losses in completely different ways however.
Tennessee used a dominant defense to contain the Boise State offense and keep themselves in the game all the way until the end. The game came down to an onside kick that the Volunteers were not able to recover. Although the Tennessee offense struggled, the defense picked up the slack with a pick six and several key third down stops.
Florida State, meanwhile, was unprepared on both sides of the ball against Ohio State. The offense struggled, managing only three points (although they missed three field goals). The defense did not fare much better and were not able to find an answer for early Player of the Year candidate Jay Smith. Smith amassed 315 yards of total offense and three touchdowns en route to a 31 point offensive effort.
What to Look For
Florida State still has holes on both sides of the ball and it has not been confirmed as to whether they have filled them heading into this game. They do have a new middle linebacker in Dewey Eggs and a new free safety in Jack Frost. The Seminoles are hopeful that Eggs and Frost can spark the defense and help create a few turnovers against Tennessee. Knowing the holes that Florida State has, look for Tennessee to attack the FSU defense early and often. Tennessee does not have the offensive firepower of many teams in this league, but they do have a promising quarterback in Kyle Miller. Also, with their defense, this offense does not need to do much to keep this team in games.
Key Matchup
Kyle Miller vs Elias Gonzalez
This game will likely come down to quarterback play. Tennessee has the matchup advantage with two elite cornerbacks vs Florida State's wide receivers. Gonzalez will need to be creative with who he tries to get the ball to. One of the walk ons on this offense is likely going to have to step up if the Seminoles are going to keep it close. Kyle Miller, conversely, has matchups all over the field. If he has time to throw, it could be a big day for him and his receivers.
Prediction
Tennessee 27, Florida State 9