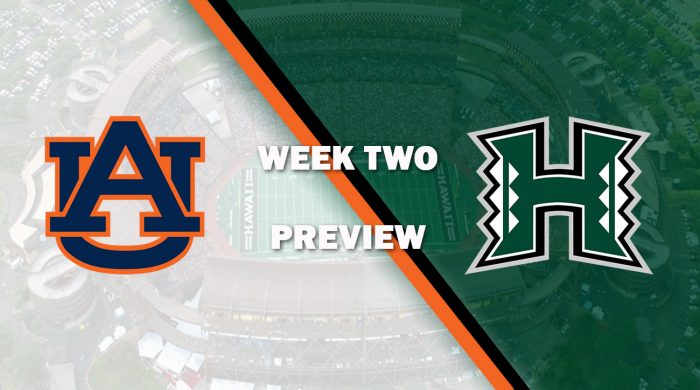 Auburn needed two late-game scoring drives from freshman quarterback Blake Moon last week to knock of a tough Iowa team at home. Outside of the fourth quarter, though, the Tigers' offense looked stagnant despite a multitude of weapons. Defensively, Auburn showed better than expected, however. A pick six in the second quarter kept Auburn in the game helping aid in the late-game comeback.
Meanwhile, Hawaii's offense looked unstoppable at times as quarterback Elliot Tubigutz threw for 291 yards and three touchdowns. Turnovers proved to be Hawaii's downfall, though, as Tubigutz threw three interceptions including one late in the game to secure the Notre Dame win. Defensively Hawaii was aggressive and produced a league-high eight sacks, three by Defensive Player of the Week Larry Taylor, Jr. The Warrior defense could not get Notre Dame off of the field on third down for much of the first half, however, which led to an early 17-0 Notre Dame lead.
What to Look For
Auburn was displeased with their offensive effort in Week One. Moon built confidence in both himself and with the team. Look for Auburn to open up things on offense and try to attack a Hawaii secondary that looked suspect at times last week. For Hawaii, they'll likely stick to what worked last week and hope Tubigutz can fare better against a secondary that does not have the same star power as Notre Dame's.
Key Matchup
Blake Moon vs Hawaii DBs
Moon was able to pick apart a defensive back seven that featured only four star players late last week. This week he'll face a defense which features star players at seven of the eight starting spots not on the line. How he creates room in the pocket and allows his star-studded receivers time to find holes in the coverage will be the deciding factor in this game.
Prediction
Auburn 13, Hawaii 27