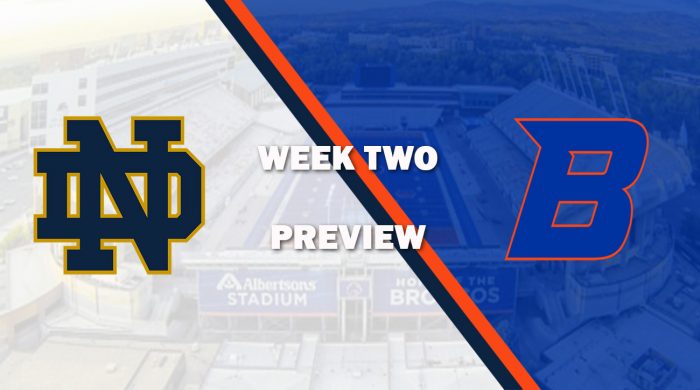 The Irish jumped out to an early 17-0 lead over Hawaii last week. However, they quickly gave up 21 unanswered points and trailed 21-17 at the half. They found a way to win despite allowing eight sacks and giving up almost 300 yards through the air. Their offense did put up a league-high 33 points and had both a solid run game and timely passing game. Their defensive backfield was opportunistic hauling in three Hawaii passes, including one to seal the win late.
Boise, on the other hand, controlled their game with Tennessee from start to finish. Although the score ended 17-14, the game looked far less competitive. Boise got 247 yards though the air from quarterback Aidric Berry and also a solid 70 yards from running back Joe Friedrich against a very tough Tennessee defense. They also held the same Tennessee offense that put up 311 yards through the air against Florida State Thursday night to 183 yards passing (52 of which came on their final offensive play). The Broncos looked like possibly the most well-balanced team in the league last week and will get an excellent opportunity to prove it against the Irish.
What to Look For
Notre Dame realizes that they were fortunate to get three picks last week despite a porous defensive effort. Expect them to mix things up a little more and up the aggressiveness to try and keep Boise from getting in a rhythm on offense. At the opposite end, if it isn't broke, don't fix it. Boise is going to add in some new wrinkles to their offense against the Irish, but expect the core concepts to remain the same on both sides of the ball.
Key Matchup
Jason Nyhart vs slot corner
Nyhart wasn't able to find the space he needs to create plays against Tennessee's defense. He'll get an opportunity against a Notre Dame defense that gave up 21 receptions and 224 receiving yards to the TE and slot guy last week.
Prediction
Notre Dame 20, Boise 24