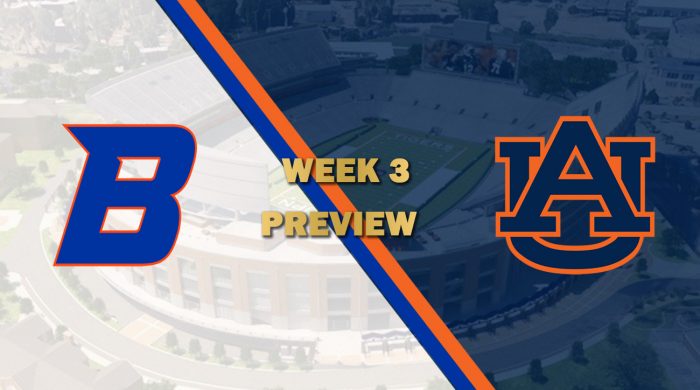 Boise State looked dominant last week as they beat Notre Dame by 13, despite going into the half with a 3 point lead. Aidric Berry came out and led Boise to 17 unanswered points in the 3rd quarter to put the game away. Berry captured player of the week with a total of 299 yds of offense and 4 total TDs.
On the other side, Auburn found themselves in trouble early when Blake Moon went down on the opening drive. The backup walk-on found himself having to try and lead Auburn back from a 13 point deficit. The attempt was admirable and made possible by 5 star WRs Devonte Duncan and Ethan Smoker who combined for 9 catches and 142 yds. Brandon Davis Jr. showed life as well, averaging 4 yds a carry off 17 carries for 70 yds.
What to Look For
Auburn showed life against Hawaii and many were left wondering as to the outcome of that game if Blake Moon had remained healthy. Look for Auburn to try and remain balanced against a stout Boise defense which is only giving up 12 first downs a game and allowing a 3rd Down conversion rate of 36%.
Key Matchups
Aidric Berry v. Auburn Front Seven
This Auburn defense has found a way to show promise, keeping the last two games tight. However, this defense has given up 23.5 first downs a game, as well as giving up the league's highest 3rd Down conversion rate of 48%. Auburn's defense will need to find a way to slow down the combined forces of Aidric Berry and Joe Friedrich to have a chance at an upset.
Blake Moon v. Boise Secondary
The flip side, Blake Moon has proven himself to be effective, carving an Iowa secondary in week 1 en route to a comeback victory and began the process of picking apart Hawaii as well. This week, he faces another top tier secondary that will force him to have to be careful and efficient while also ensuring that he's effective.
Prediction
Boise State 27, Auburn 20
There's enough gaps on this Auburn defense for Boise to take advantage of, but they'll be methodical about it. Expect Aidric Berry to make a case for POTW against a weaker defense. Blake Moon's efforts will be just enough to keep Auburn in this, but this defense can't be trusted to make a stop when they need to.