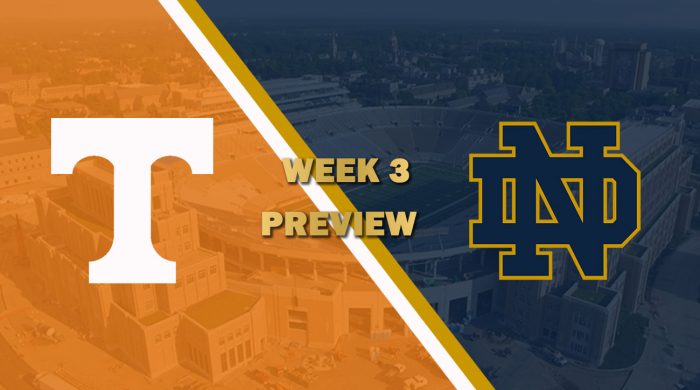 Tennessee comes into South Bend as the only team in the league with an 0-2 record. Kyle Miller has looked inconsistent, at best, despite putting up a stat line of 31/48, 311 yds, 1 TD, 1 INT from last week. The problem, though, is those numbers translated to a 2 point loss. In fact, Kyle Miller's performance has done little to help a floundering offense that averages 17.5 pts/game, 14.5 first downs a game, and a 3rd down conversion rate of 25%.
On the other side, Notre Dame should be feeling a little down too, where a 3 point deficit turned into a 13 point loss. They get to come home in an attempt to erase the memory of that second half against Boise State and one way to build off that is to limit the number of sacks. They lead the league in giving up the most sacks this season with 13. Protecting Ty White and getting him in a rhythm is a must for success and the best way to build off their 56% conversion rate on 3rd down.
What to Look For
Expect Tennessee to try and avoid this strong Notre Dame secondary and get Mitchell Kennedy rolling on the ground, but that alone is a challenge. Tennessee has the league's worst rushing offense, averaging 46.5 yds on the ground a game. Last week, Mitchell Kennedy had 10 carries for 14 yds. For Miller to have success, Kennedy needs to have a strong outing.
Key Matchup
David Woods v. Tennessee Front Seven
Tennessee's defense is 3rd in the league in stopping the run, allowing 107 yds/game on the ground and is going to need to hold an explosive Boise offense to under 20 points. The issue? David Woods is second in the league in rushing with 34 carries for 211 yards, averaging 6.2 yds/car with 3 TDs. Expect Woods to get the rock early and often to try and impose his will on this defense.
Prediction
Tennessee 21, Notre Dame 28
The defensive woes for Tennessee are bound to get exposed sooner or later, and the league's second leading rusher is bound to do it. Tennessee's offense has looked lackluster and sluggish, unless they find a way to change it, it's hard to see them pulling out a win, especially against a Notre Dame team that's bound to be angry over last week. Tennessee falls to 0-3.