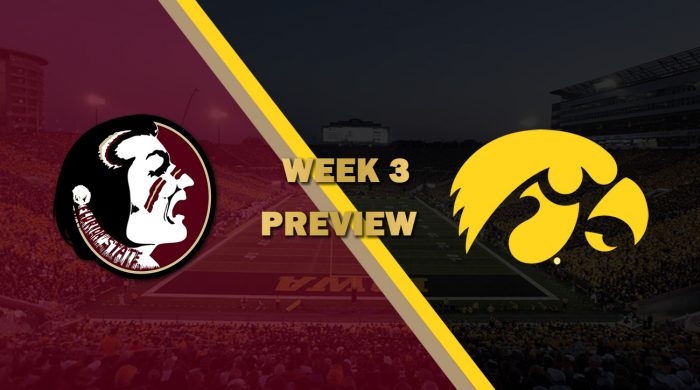 Florida State comes into this week with a lot of questions surrounding the team. Blown out of Columbus in week 1 set them up for a hard fought bounce back win against Tennessee last week. They converted on 3rd down about 30% of the time in spite of a very balanced attack where Elias Gonzalez passed for 271 yds and Michael Kovach ran for another 118 in a 23-21 victory.
As for Iowa, they're coming off a 9 point win against Ohio State, a team that had counted them out. The screen game last week has played a role though in making Iowa out to be one of the worst passing offenses in the league, averaging only 182.5 yards through the air a game with no passing TDs for Justin Meis. Their rushing game isn't much better as it's ranked in the bottom three of the league. The bright side? Through two weeks, Iowa has looked competitive, due in part to their defense, which is only giving up 17.5 points a game and allowing opponents to convert on 3rd down 24% of the time.
What to Look For
Expect Iowa's screen game to be decreased this week as they hope for Justin Meis to take shots downfield more often, especially with the WR corps that is available to them. This means that Meis is likely to connect with his WRs for the first passing TD of the season for this Iowa offense, but don't sleep on Earlycutt either, who's likely to help Meis have continued success in the read option.
Key Matchup
Michael Kovach v. Jerry James
This might be one of the most exciting matchups that has gone unsung about this game, with Michael Kovach coming off a big performance last week and rolling into this game with 38 carries for 157 yards, averaging 4.1 yds/car and a TD to boot. Jerry James, though, comes in as Iowa's leading tackler, recording 21 tackles and 3 TFL through two weeks. He has shown himself to be the undisputed captain of this defense and it shows in his nose for the ball and willingness to attack QBs and HBs alike.
Prediction
Florida State 21, Iowa 24
Iowa should have a solid air attack this week and these WRs do just enough to escape with the W. But people aren't sure what to make of Florida State and this week we'll find out that they're a solid team by proving their ability to go toe-to-toe with Iowa. Jerry James and this front 7 for Iowa should be capable of slowing Kovach and forcing Gonzalez to make a mistake, and that one mistake makes the difference to push Iowa above .500.