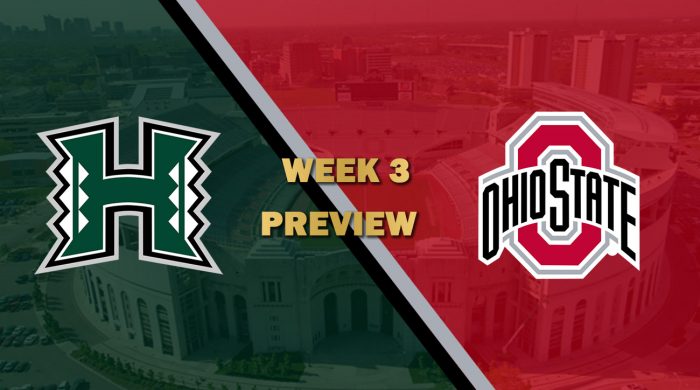 Hawaii comes in at 1-1 off an impressive showing from Eliot Tubigutz which saw him pass for 373 yards and a TD off a completion percentage of 72% that helped the offense to convert on 3rd down about 53% of the time. The issue is that they won by 12 against an Auburn team that lost their star QB to injury early. Hawaii's defense was solid enough to hang on to their lead, but not good enough to pull away from a weakened Auburn team.
Ohio State is also 1-1, but they're coming in off of a 9 point loss in front of the home crowd and there they return. Jay Smith saw an efficient game through the air, completing 31/38 passes for 251 yards. However, a large part of this was due to several screens being ran and the Buckeyes having a hard time running the ball, picking up only 59 yards on the ground and converting 3rd downs 20% of the time.
What to Watch
Ohio State is hoping to find their winning ways once again by going back to a more balanced offensive attack. They'll have an opportunity to do so against a weak rush defense from Hawaii which has given up an average of 150 yards on the ground a game. The option game between Jay Smith and Ares Louis should pose a threat to Hawaii that they'll need to figure out how to contain the duo.
Key Matchup
Eliot Tubigutz v. Ohio State Defense
Tubigutz led the offense in converting on 3rd down due to his passing attack, which points to good news when taking on this weaker Ohio State secondary. The issue is that this front 6 is much better than what it seems, giving up only 15 first downs a game. While the secondary is the weakness, Ohio State's front 6 seems to make up for it.
Prediction
Hawaii 27, Ohio State 31
Hawaii has been solid but this defense has been a bit of a disappointment and exactly what Ohio State needs to bounce back. Tubigutz and Tim Riggins will put up points, but this defense should be able to make Tubigutz uncomfortable just enough to make a few mistakes for Ohio State to escape with the win.