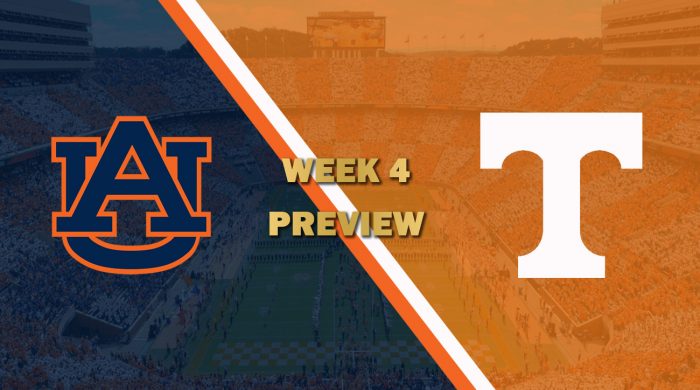 Auburn fell last week to the current #1 team in the league, Boise State, in a game that looks close on paper, due to the late game heroics of Blake Moon, where Auburn put up 14 points in the 4th quarter. However, the comeback attempt failed and they fell 31-17. There's hope for Auburn yet though, as Moon went 25/33 for 205 yds and 2 INTs. Moon found his rhythm late, however, guiding the offense down to set up 2 Brandon Davis TDs. They'll need Moon to get things figured out fast and early tonight.
Tennessee comes off their second straight heartbreaker, where they really had control over Notre Dame until late when the game was forced into OT. Kyle Miller and the offense looked solid, although lacking explosiveness, but the defense stepped to the challenge until late, where they gave up a TD that set up OT. Late game heroics are something to be aware of against a QB who's known for them.
What to Look For
Expect Blake Moon to try and get Duncan and Smoker involved early in order to find a rhythm to open things up for Brandon Davis and Chris Bullard. This will be a tall order against the 4th ranked passing defense and a front 6 that is tied for 4th in sacks with 11.
Key Matchups
Auburn WRs v. Tennessee Secondary
Devonta Duncan and Ethan Smoker are slowly emerging as Blake Moon's favorite targets, and are certainly explosive. Their success makes it easy for the running game, but they have their work cut out for them. Aaron Smith, Tyler Ruano, Terrance Mitchell, and Josh Bradley have all been solid, allowing only 217 pass yards a game, but be aware. All the attention on the top receivers can open up Chris Bullard and Adam Smith to have big games.
Brandon Davis v. Brian Bozworth & Caleb Tuiasosopo
What happens when you match up a bowling ball running back against a pair of linebackers, that combine for 36 tackles, 7 TFL, and 2 sacks? Tuiasosopo looked dominant against Notre Dame, effectively playing a role in quieting David Woods. Brandon Davis could struggle, but it should be fun to watch these 3 hard-hitting players square off.
Prediction
Auburn 17, Tennessee 20
Late game heroics have been Blake Moon's calling card and last week Tennessee had their heartbroken to some late game magic. But this week, Tennessee amasses their own late game heroics, in part due to their defense which will undoubtedly be staunch in holding off Blake Moon's late game sorcery, something Auburn hopes they won't need. Kyle Miller and Mitchell Kennedy need to build off last week to get rolling and put points on the board. Bottom line, this defense should be enough to bring Tennessee their first win of the season.