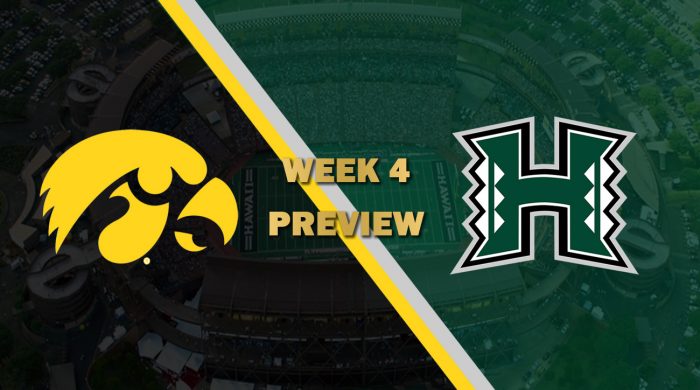 Iowa comes in after falling to a Florida State team that has caught fire. The Hawkeyes are going to look to reclaim their fire after falling the Seminoles 31-24 last week. However, that game could have had a very different outcome if Justin Meis connects on some deep shots to McFadden and Mason. In spite of that, Meis completed 52% of his passes for 266 yards, 2 TDs and a pick. Iowa needs to sort out some kind of balance to get Earlycutt involved as well.
Hawaii comes in after getting Ohio State to roll over for them in a 49-7 victory. Tubigutz was dominant in the showing, passing for nearly 400 yards and 5 TDs. Similarly, Chris Ohle and Mason Ryan were flying to the ball, making plays in the backfield to shut down the Ohio State running game. This secondary certainly has their work cut out for them as they face a strong WR corps.
What to Look For
Iowa needs to establish some balance, but expect that they're not afraid of letting Justin Meis take shots into this Hawaii secondary, as strong as it may be. They are the 4th ranked scoring offense, but the question is what will they do defensively against a strong Hawaii passing game? Either they're going to try and bring some pressure to force Tubigutz into some mistakes, or dare him to throw by allowing Joey Hanson to drop into coverage.
Key Matchups
Iowa WRs v. Hawaii Secondary
Iowa's had a solid passing attack, amassing 210 yards a game through the air but this Hawaii secondary has been stingy, giving up only 183 yards a game. Mason Ryan, Wess Vilo, Danny Polamalu and Deontre Spires will aim to shut down Alex A. Cook, Derek McFadden and Neal Mason, all of whom looked solid last week, with McFadden and Mason both able to get open deep downfield.
Elliot Tubigutz v. Joey Hanson
If Iowa plans on bringing the pressure, then week 3 POTW Joey Hanson is the guy to watch. Last week he amassed 12 TAK, 3 TFL, 1 SCK, 1 INT in an absolutely dominant performance that allowed Todd Rainey Jr. and Alex Mack to have solid games as well. Tubigutz has looked unfazed so far, but if Joey Hanson is dropped into the box on the edge, Tubigutz better be aware.
Prediction
Iowa 28, Hawaii 35
Justin Meis and this Iowa offense has proven they can score, and undoubtedly they'll do so again, but Meis had a pick last week and this Hawaii secondary is much better than Florida State's. There's no question that Tubigutz will play a big role, but some pressure might keep him from looking as great as he did in Columbus. Expect this Hawaii secondary to come up with a turnover or two to stay ahead of Iowa in a Warrior victory.