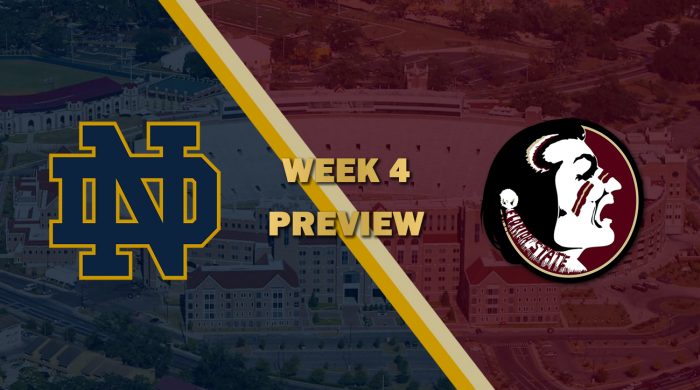 The Fighting Irish walk into Seminole territory with a 2-1 record, coming off an OT win against the Tennessee Volunteers last week. Ty White looked solid in leading the Irish down the field for a late TD in the 4th to send them into OT, despite passing for only 134 yards. David Woods had another solid game on paper, but for much of the game appeared quiet, lacking the usual explosiveness many have come to expect.
The Seminoles, meanwhile, return home after an impressive 31-24 victory in Iowa, winning their second straight. They dominated time of possession, in part due to Michael Kovach having 35 carries for 147 yards and a TD, with another 8 catches for 73 yards and a score. His success allowed Elias Gonzalez to get away with the 2 INTs he threw, while also passing for 193 yards and 3 TDs to offset the turnovers.
What to Look For
Notre Dame comes in looking to cool down a hot Florida State team which has exploded offensively in the last few weeks, in part due to Michael Kovach's success on the ground. This balanced Seminole attack has allowed both Kovach and Gonzalez to find success and get hot recently. They'll face a solid defense once again and will look to continue to build off their success.
Key Matchups
Michael Kovach v. ND Defense
This is probably the most obvious matchup to watch, will the front 6 of ND be enough given Kovach's success in the receiving game? How Notre Dame attempts to slow Kovach will be critical in making the Seminoles one dimensional and putting the pressure on Gonzalez which leads us to our second matchup.
Trevor Golinar v. Tanner Hendrix
Golinar had a bit of a breakout game last week, posting 5 catches for 60 yards and 2 TDs. If the Fighting Irish can slow down Kovach and force Gonzalez to pass more then Golinar is going to need to find a way to separate from Hendrix to help Gonzalez out and make things easy for the rising QB.
Prediction
Notre Dame 24, Florida State 27
Last week Florida State seemed in control, but I expect they'll be in a somewhat tougher fight this week. Notre Dame's defense should be able to find ways of keeping things close and interesting, but ultimately the Seminoles will find a way to hold on at home to gain their 3rd-straight win on the season.