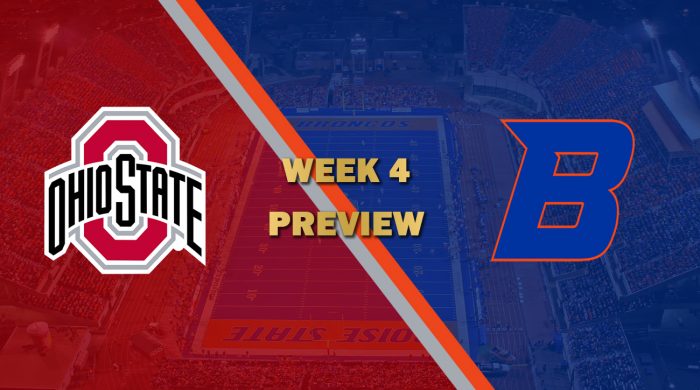 Ohio State comes into Boise having lost 2 straight, with their most recent being their most embarrassing of the season. Hawaii came in and blew the doors off the Buckeyes, rolling over them 49-7. Ohio State's running game has been absent since week 1 and they've seemingly lost their identity, something they hope to reclaim this week.
Boise returns home undefeated, the only team in the league without a blemish on their record. Aidric Berry has looked exceptional, picking up nearly 200 yds through the air and another 110 on the ground in last week's win over Auburn. The option game between Berry and Friedrich has been incredible over the past couple weeks and appears to have become Boise's identity.
What to Look For
Boise's high power offense looks to continue against a Buckeye defense that got shredded by Hawaii's passing attack. Expect Boise to either dare Ohio State to stop the run, or take advantage against a secondary filled with holes while Ohio State's crippled offense tries to come up with some kind of an identity.
Key Matchups
Aidric Berry v. Ohio State Front 6
Aidric Berry has looked fantastic, but this Ohio State run defense is no joke either, holding Tim Riggins to a 3 YPC average, while also being one of the best run defenses in the league. However, Aidric Berry and Joe Friedrich will be the first real test for this Ohio State run defense and certainly one to watch.
Prediction
Ohio State 17, Boise State 31
Ohio State's offense has fallen apart over the last couple weeks, but Boise should be kind enough to give up a few points. Unfortunately for the Buckeye faithfuls, their defense will give up just a little bit more. Berry should have another solid outing as he continues to build his MVP candidacy.