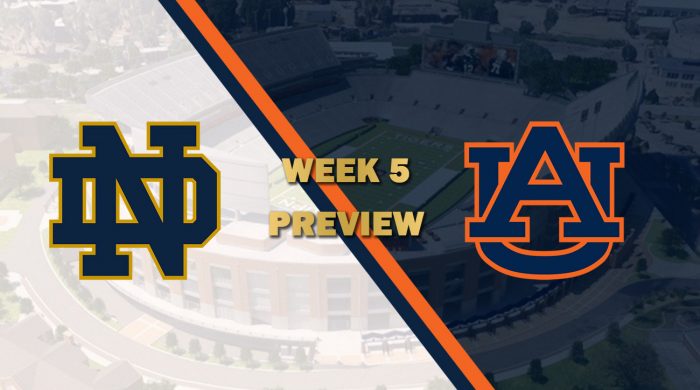 Notre Dame comes in after falling short to one of the hottest teams in the league right now, in an offensive contest where they fell 55-42 to Florida State. The good news? Ty White had one of his best games of the season, going 22/33 for 250+ yards, 2 TDs and an INT. Similarly, David Woods had 17 carries for 149 yards and 2 TDs. By far, this was Notre Dame's most complete offensive performance and one they need to replicate again this week.
Auburn comes in at 2-2 with their late game heroics being their continued calling card. Tony Bryant had an INT that went 60 yards to set up an easy TD for the offense. Blake Moon continued to lead the offense down field late to set up a few late game FGs in order to put it away against a competitive Volunteers team. Moon went 18/25 for 164 yards and a TD, efficient, but far from explosive.
What to Look For
Auburn has been inconsistent, but competitive. The holes at corner should be a concern, but the rest of this defense makes up for those weak spots. The question will be whether or not this offense can get going. Expect Brandon Davis to get work early to open up the passing lanes for Blake Moon and these wide receivers.
Key Matchup
David Woods v. Tony Bryant
Since the move to MLB, Tony Bryant has exploded, with last week being his first game in the new role, he left a stat line of 11 TAK, 1 TFL, and the aforementioned INT. Auburn will call upon him to meet the Notre Dame life force that is David Woods and try to slow him down at the point of attack.
Prediction
Notre Dame 28, Auburn 24
Auburn will find ways to compete, but they need to do so early. Falling behind and asking Blake Moon to lead you to late victories has not worked well enough, and Notre Dame has a tendency to ride the momentum of a hot start. They should find their third win today.