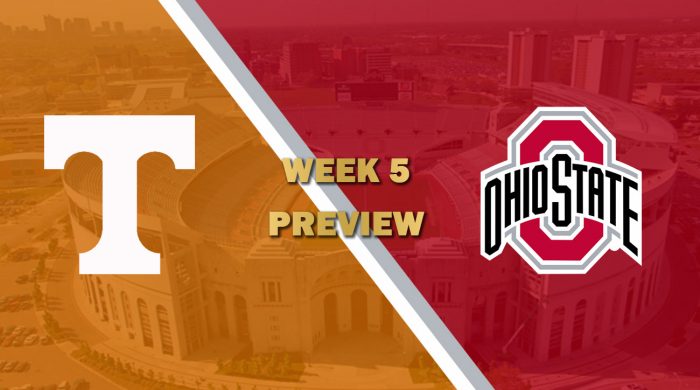 Tennessee's heartbreaking season continues on a week-to-week basis. They fell short last week to Auburn in a game they had control of, but ultimately could not hang onto late. This tends to be a recurring theme for the Volunteers, but not for lack of trying. Mitchell Kennedy had one of his best games on the season, picking up 114 yards on 25 carries. Kyle Miller played well enough, going 20/38 for 134 yards and an INT. He'll need to maintain his efficient ways this week.
Ohio State comes in off their most exciting win of the season, travelling to Bronco Stadium and shaking the CFSL by upsetting the Broncos, 59-17. Jay Smith re-emerged as an MVP candidate, going 22/33 for 218 yards and 2 TDs, and then adding to that by running for 210 yards on 22 carries and 3 TDs. Ares Louis also found a groove, adding 169 yards on the ground off 23 carries and 3 TDs of his own.
What to Look For
Expect Ohio State to maintain their re-established rushing attack against a Tennessee defense that has more star power in the secondary than in their front 7. Expect Jay Smith and Ares Louis to both try and find their way into POTW candidacy this week.
Key Matchup
Jay Smith & Ares Louis v. Tennessee Defense
Somebody needs to have big showing on this Tennessee defense in order to establish the mindset and tone for the entirety of the unit. Slowing down Jay Smith and Ares Louis will be a tall order, but one that someone on this defense needs to undertake in order to give the Volunteers a shot at winning.
Prediction
Tennessee 17, Ohio State 24
Tennessee will maintain their competitive effort, but going into the Horseshoe against an Ohio State team that has found their identity in the running game is a tall order. The Volunteer defense should be able to slow the Buckeye offense, but not enough to give them their first win of the season. The Buckeyes find themselves above .500 for the first time since week 1.