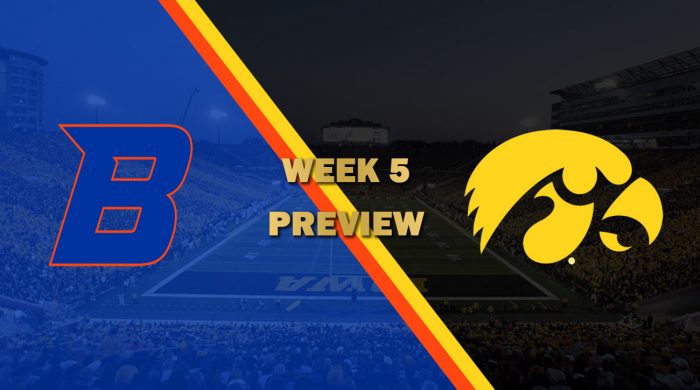 The Broncos come into Iowa City off their most emotional and shocking loss to the inconsistent Buckeyes, who routed them 59-17. Aidric Berry and Joe Friedrich were limited, with Friedrich seeing only four carries and Berry tossing out 2 INTs, they'll look to bounce back.
Meanwhile, the Hawkeyes return home from their windy venture where they passed the ball 69 times. Their last two losses have been by at least 7 points, where they have been competitive. Their only win came against Ohio State where they won by 9. Meis will need to be a little more accurate tonight and connect with open receivers, who need to catch those passes, not drop them.
What to Look For
Expect Boise to go back to their read option ways that sent Berry and Friedrich into POTW contention, but it's a tough task against this Iowa defense, especially if Joey Hanson returns to the box.
Key Matchup
Justin Meis v. Boise Secondary
Boise got shredded last week, but I expect they'll aim to turn that around this week. Justin Meis has been solid though, despite missing a few open receivers. Expect Iowa to try and challenge Boise after this secondary gave up 200+ yards to Jay Smith last week.
Prediction
Boise 34, Iowa 28
Aidric Berry and Joe Friedrich find their mojo once again tonight, and this Iowa defense can't do much to slow it down. Offensively, they'll find openings and should be able to score points, but be wary, coming off blowout losses, teams have responded with big wins this season. Boise reclaims their dominance tonight.