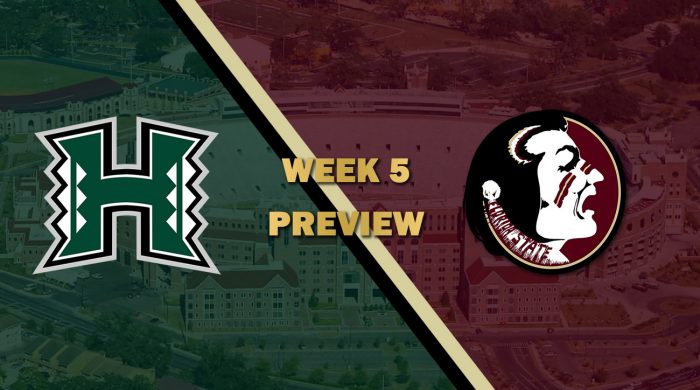 Hawaii comes in as the #1 ranked team in the nation, following a 24-21 victory over Iowa in what was far from Tubigutz's best game. However, Tim Riggins made up the difference, picking up 117 yards, and 3 TDs off 22 carries. Tubigutz and this Hawaii offense are looking for a bounce back game this week, eager to find their firepower once again.
Florida State continues their hot streak, coming off an offensive showing against Notre Dame where they scored 55 and seemingly man-handled the Fighting Irish, despite giving up 42 points. Elias Gonzalez put on a show, going 38/52 for 398 yards and 4 TDs.
What to Look For
The Seminoles are eager to stay hot, and the process to doing so runs through Michael Kovach, who touted 34 carries for 166 yards and 2 TDs. Anticipate Florida State dipping into the "balanced" offense well in order to keep this Hawaii defense on their heels, with Kovach leading the charge.
Key Matchup
Elliot Tubigutz v. Michael Kovach
I know what you're thinking, how can two offensive players be the key matchup? I look at it like this, Tubigutz and Kovach are both the feature pieces on each team, and the question is, who has the bigger impact? Kovach has been a big part in Florida State's success, opening up the passing lanes for Elias Gonzalez. Tubigutz has been a major part in Hawaii's 3-1 record, though he has appeared inconsistent at times. Hard to tell if it's a dietary issue or not with a man his size. Bottom line, Kovach and Tubigutz are the critical cogs in the wheels of their respective offenses.
Prediction
Hawaii 42, Florida State 35
Florida State is hot, but Hawaii's offense has been hotter, and Florida State's back 7 is just as bad, if not worse than Ohio State's. Tubigutz has found the perfect victim for his feast tonight, and coming in from last week, with an appetite to bounce back, the 288 lb. QB is hoping to have a big game and score points. Florida State has the offense, but their balanced attack likely won't be enough to keep up with the….er….gunslinger-at-large.