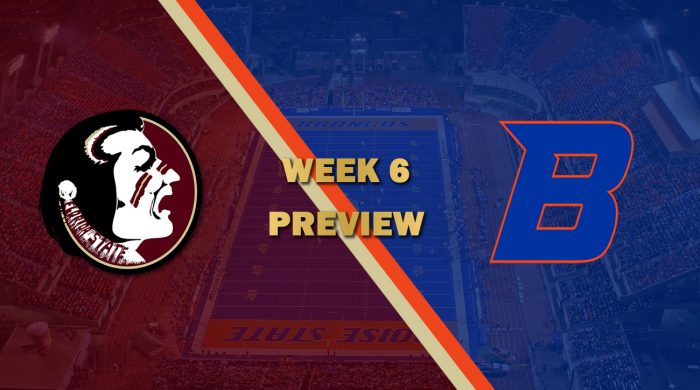 A pivotal match-up takes place tonight when Florida State travels to Boise to take on the Broncos. The game is the first of back-to-back games between the two teams jockeying for position at the top of the CFSL standings. Boise comes in off of a bounce back 52-14 win over Iowa which followed the league's biggest blowout loss of the season to Ohio State. The Seminoles, meanwhile, come in following a hard-fought loss to Hawaii which ended a three-game winning streak.
What to Look For
Florida State brings a smash-mouth, pro-style rushing attack into the game which they like to use to set up the pass. Michael Kovach leads the league in rushing (115.6 YPG) and can wear teams down throughout the game. The Broncos, however, have their own high-powered rushing attack led by two-time player of the week Aidric Berry (#3 in rushing and tied for 1st in rushing TDs). Berry set a CFSL record with five rushing scores last week and looks to keep the momentum going with his read option partner, halfback Joe Friedrich.
Key Match-up
Elias Gonzalez vs Aidric Berry
Gonzalez will need to have another game like he had against Notre Dame where he threw for a league-high 398 yards and four scores. Berry and Friedrich are a tough tandem to tackle, so Gonzalez is going to need to answer the bell for the Florida State offense to keep pace with this Boise rushing attack. Berry, on the other hand, has to be ready to match Gonzalez through the air if Florida State finds a way to slow the running game. Berry has yet to prove he can carry this team with his arm. Tonight he may be asked to do just that.
Prediction
Boise State 34, Florida State 31