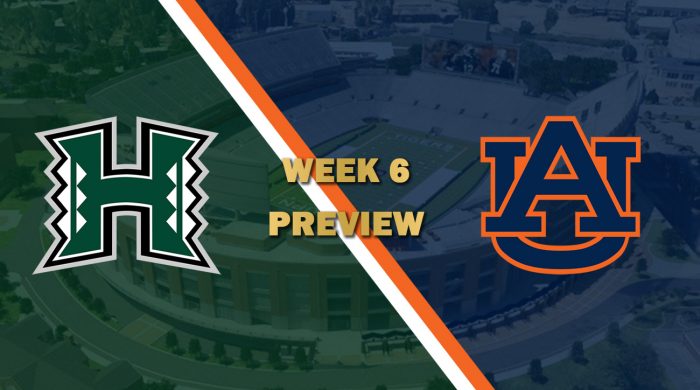 While this game may look like one in which Hawaii should dominate, the evidence suggests this game will be more interesting than most expect. Auburn hung with this Hawaii team in Week 2 with a walk on quarterback filling in for starter Blake Moon when he was injured on the opening drive. Moon's status as one of the premier quarterbacks in this league is unquestioned. This Auburn defense has also improved since Week 2 as well. Hawaii is favored in this one and for good reason. However, this game has upset potential written all over it. It's likely to be closer than most think and, if it is, we all know what Moon is capable of in the 4th quarter.
What to Look For
Hawaii isn't going to fool anyone with their gameplan. They do what they do best and they force the other team to try and stop it. Hawaii leads the league in scoring and they'll come right at this Auburn defense both through the air and with a powerful rushing attack. Auburn, on the other hand, hasn't found their identity on offense. The Tigers have two superior athletes at wide receiver in Devonta Duncan and Ethan Smoker. They also have a solid running back in Brandon Davis and an emerging tight end in Chris Bullard. They just haven't been able to figure out a formula for success on offense. Their defense is keeping them in games though. Moon is also a magician in the 4th quarter. If the defense can keep this game close, all bets are off.
Key Match-up
Blake Moon vs. Elliot Tubigutz
Hawaii's only loss came in Week 1 when Tubigutz threw three INTs. While Tim Riggins has been a monster in games of late, Tubigutz is the key to the offense. Hawaii nearly lost at home to an Iowa team that is now 1-5. Tubigutz struggling kept that game close. Had Iowa been able to mount a better offensive attack, Hawaii easily could be 3-2. There's no doubt as to who make's Auburn's offense go, however. Moon has had one bad game (vs. Boise) and still almost brought them back from a 28-point deficit. He's probably most dangerous as a runner and that gave Hawaii problems in Week 1. If Moon is on and can get going early (like he was in Week 2) this Hawaii defense will get tested and this game will go down to the wire.
Prediction
Hawaii 27, Auburn 23