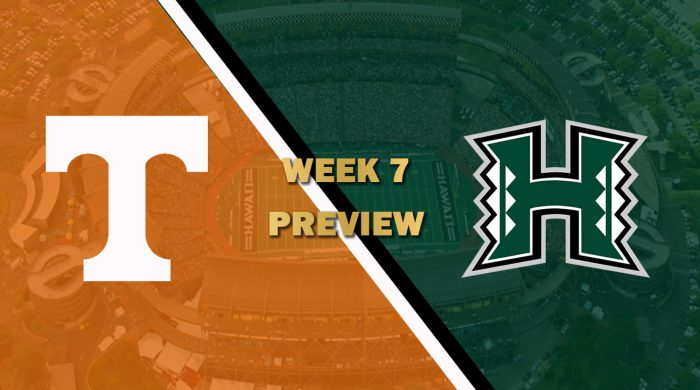 Hawaii is back home this week looking to bounce back from just their second loss of the season. They'll try to do that against a Tennessee team that has finally found something on offense. Led by Mitchell Kennedy and this incredibly talented defense, the Volunteers have rattled off back-to-back wins and find themselves with a shot to make they playoffs should they win out. Hawaii's defense is no joke either, but after Auburn put up 45 on them, there's definitely potential for another upset. Will Elliot Tubigutz be able to rally his troops and put up enough points against this tough Tennessee defense?
What to Look For
Hawaii's defense had their worst game of the season last week against Auburn. Look for them to bounce back and try and limit a Tennessee offense that has started to find their rhythm the past couple of weeks. On the flip side, will Tubigutz be able to put up his usual numbers against a Tennessee defense that is arguable the best in the league?
Key Matchup
Tubigutz vs Tennessee Defense
Hawaii's hefty lefty is one of the most talented pure passing quarterbacks we have in this league. However, he's struggled the past couple of weeks, and now has a huge task in front of him going against Tennessee. Tubigutz will need to be on his A-game in order for the Warriors to improve to 5-2 on the season.
Prediction
Tennessee is going to keep this one close, but I just don't think they have quite enough offensive firepower to come out on top in this one.
Hawaii 24, Tennessee 20