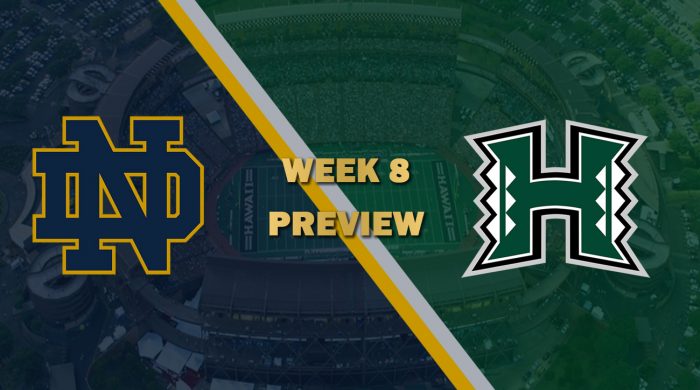 The Fighting Irish come in with a claim to a playoff spot, and one that they're unlikely to surrender, as they've won 3 of their last 4. Ty White has emerged as has Gage Bodine and their combined efforts have shoved Notre Dame into the top 2 conversation.
Meanwhile, Hawaii is out for revenge, and desperation. They're at a point where each game matters in making sure they stay in the playoff race. Teams are fighting to take their spot and a loss helps those teams. To keep those teams on the outside looking in, they need Elliot Tubigutz and Tim Riggins to launch themselves back into POTW contention.
What to Look For
Riggins was limited in Week 1 when these two teams faced off. I imagine they'll ask him to get more involved this time around which should open things up for Tubigutz through the air. This Notre Dame secondary is tough, but if Riggins can draw them in, Tubigutz will have his opportunities.
Key Matchup
Tim Riggins v. Justin Philhart & Bobby Slovak
I thought about putting one or the other here, but in all honesty, both Philhart and Slovak are keys to this defense. Between the two of them they combined for 13 tackles last week and will need to slow down Riggins to keep Tubigutz relatively quiet.
Prediction
Notre Dame 31, Hawaii 28
Ty White and Gage Bodine have been stellar over the last few weeks and I anticipate they'll be able to do enough against this Hawaii defense to give them the edge. Hawaii will have their moments, but Notre Dame should be able to maintain their claim to being one of, if not the top team in the country.