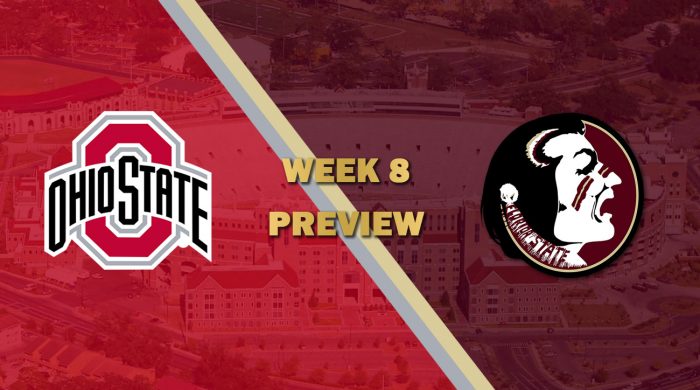 The Buckeyes have been inconsistent but managed to pull out a tough win against Auburn last week. The issue? They're squaring off with a hot Florida State team that is eager for revenge against the Buckeyes following their week one blow out. Ares Louis has struggled to find a place offensively lately, but that will need to change in order for the Buckeyes to have success.
Touted as one of the hottest teams in the league, the Seminoles roll in with a playoff berth all but locked down and a win tonight would do that. Kovach has looked entirely like a stud and Gonzalez has proven to be solid as well.
What to Look For
The Buckeyes are in big trouble if they lose. They'll be out of playoff contention. They'll have to bring everything they've got and need contributions from all pieces in order to win against the Seminoles and gain a leg up in the playoff race.
Key Matchup
Brandon Lawson v. Khalil Miller/Jamal Chapman
The defensive ends of the Buckeyes have been fierce for a large part of the season. For Florida State to hang on to their playoff berth, they'll need Lawson to keep either Miller or Chapman quiet for the game.
Prediction
Ohio State 28, Florida State 31
The Seminoles and Buckeyes both have a lot riding on this, but the Seminoles have a bit more, and we're still unsure as to which Buckeye team will make the trip tonight. Kovach should be more than enough to send Ohio State out of the playoff race for good while holding onto their own chances.