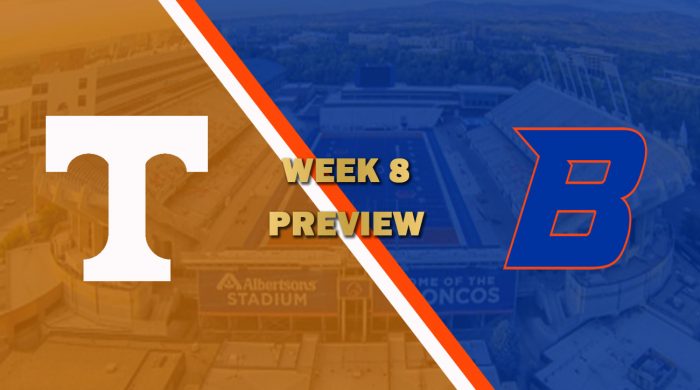 The Volunteers come in having won three of their last four and looking to extend that winning streak to four of their last five. To do so, they'll have to enact revenge over the Broncos from their week one loss. The good news? Kyle Miller and Mitchell Kennedy have found their stride at an opportune time for the playoff race.
Boise, on the other hand, has one eye ahead of them, another behind them. They'll have to win to keep their playoff chances alive, but a loss bolsters the hopes of the Volunteers and Buckeyes. Aidric Berry was solid on the ground last week, but will need to play well in all areas to have success.
What to Look For
The Volunteers are in desperation mode to get into the playoffs. I expect they'll pull out all the stops tonight in order to fight their way back into the playoff picture for a spot. Make no mistake though, Boise beat them once before and can do it again.
Key Matchup
Friedrich v. Kennedy
We know the story behind both defenses and QBs. The winner tonight, I expect, will be decided by the larger contribution out of the backfield meaning it starts with Friedrich and Kennedy. Friedrich has been a proven power runner but Kennedy has shown more speed and athleticism.
Prediction
Tennessee 27, Boise 20
I expect that Kyle Miller continues his solid performance and is able to outduel Aidric Berry. Berry should be able to help the Boise running game, but I don't know that it'll be enough to get the W. After tonight Boise State's playoff hopes are in jeopardy.