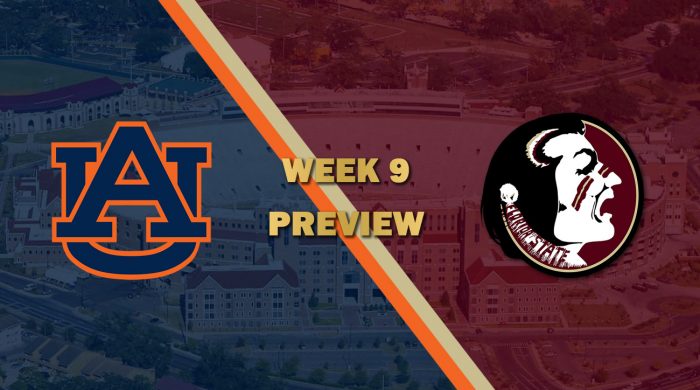 This is a must win game for both teams as both need to win if they want to make the playoffs.  The easiest path for FSU to make the playoffs is to beat Auburn which would clinch a spot while Auburn needs to win and get some help from Iowa. Auburn is coming off the game of the year beating Iowa in OT in a game that saw 146 points. FSU is coming off a 19 point loss to OSU and, after starting the year off 3-1, is 2-2 in their last four games with both wins coming by less than five points. The Auburn offense started off slow scoring only 16 points per game in their first four games. The last four games they are averaging 43 points. Can they keep it up?
What to Look For
Blake Moon last week had 492 passing yards, 95 rushing yards and 9 total TD's. It will be exciting to watch what he does as a encore to that once in a lifetime game. Elias Gonzales is a Player of the Year hopeful candidate so if he can out play Moon while knocking Auburn out of the playoff race that could win him a lot of POTY votes. Keep a eye out on FSU TE Spencer Murray in the redzone who has 8 TD's on the season.
Key Matchup
HB Kovach  vs DE Shane Masters
The FSU HB has 48 more carries than the next guy in the league so you have to expect Auburn to be ready for him to see the ball a lot. Shane Masters is the only scholarship DL on the Tigers and for the year has 12 tackles, 4 TFL and 0 sacks.  The Auburn run defense is 2nd to last while Kovach leads the nation in rushing yards. Masters, the 5* DE, needs to make some plays and slow down the big Florida State HB.
Prediction
These are two of the lowest ranked defenses in the country. I think Blake Moon pulls out another 4th quarter comeback and Auburn wins on a last second FG.
Auburn 38, FSU 35