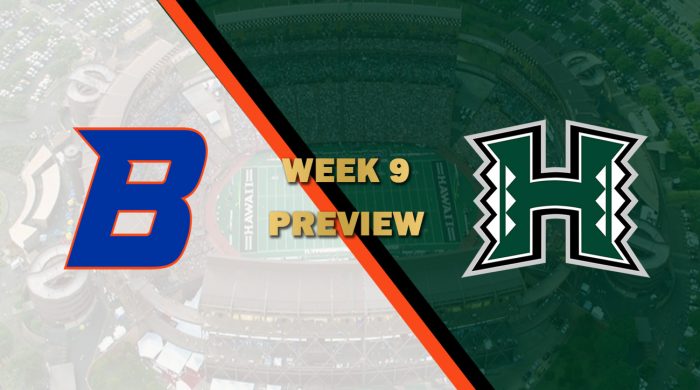 The playoff picture for both these teams will be a lot more clear once this game kicks off as we will know what happened in the Iowa vs OSU game. Both teams sit at 5-3 and both need to win so this should be a high scoring, fun match-up. Boise appears to be back on track after back-to-back losses put their playoff spot in serious jeopardy. They beat Tennessee 56 to 24 as Aidric Berry had close to 400 total yards and 6 TD's. In near identical fashion, Hawaii had lost back to back games until a impressive win over Notre Dame last week.
What to Look For
Blake Moon with his play the last few weeks is getting all the buzz for player of the year. Aidric Berry must have a impressive stat line if he wants to win the award himself. If Iowa loses and Boise wins and Berry has a big game, that should put him back as the favorite.
Key Matchup
Elliot Tubigutz vs Darius Bowman
Tubigutz was living high on the hog early in the year and on his way to becoming a legend in the CFSL. The last three weeks he just hasn't played well averaging only 209 yards with a total of 1 TD and 3 interceptions. This Boise pass defense is legit, currently 2nd in the country allowing  only 222 yards through the air. The CB duo of Darius Bowman and Mike Teo don't have flashy stats. They just quietly get the job done.
Tim Riggins vs  Tylar Jones Drew
Riggins is having an impressive season. He has 15 TD's and should finish the year with around 900 yards. When you look closer, you will see that his yards per carry is only 4.8 which is the 2nd lowest in the league. Hawaii as a team is 2nd to last in yards per game. Since Tubigutz isn't a threat to run the ball and the last few weeks he has been off throwing the ball, this puts a ton of pressure on Riggins. He will get all the attention of the Boise defense and likely will face 8 men in the box all game long. Tylar Jones-Drew is the leading tackler for Boise. You have to think the 5* MLB's main job will be to stop Riggins.
Prediction
While everyone expects this one to be close, I think Boise AD Sam Burns pushed all the right buttons and surprises everyone winning this game by 2 TD's
Boise 45, OSU 31