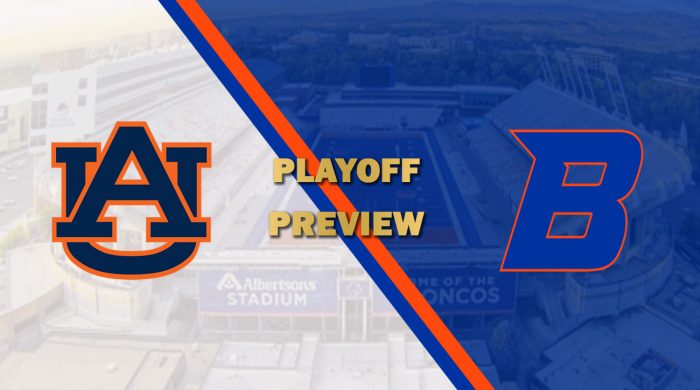 Boise State has turned things back around with two-straight wins after back-to-back losses in weeks 7 and 8. Auburn got off to a slow start and made the playoffs winning 3 of its last 4 games. This game has all the makings of a classic and is a must watch that should feature a ton of points scored. Boise leads the country in points per game with 34.9 while Auburn in the last 4 games is averaging an unheard of 52.5 points.
What to Look For
This one is easy.  Its Blake Moon and Aidric Berry who are universally considered the two best players in the league. Blake just won the player of the year so he is out to prove the voters made the right choice and that his last two games are no fluke. Berry is out to prove that he should have won the award over Moon and that the voters made the wrong pick.  I think most people would agree whoever has the best game of the two QB's will advance to the championship game. Keep a eye on turnovers because one bad pass very well could be the difference in who wins.
Key Matchup
Joe Friedrich vs Shane Masters
Friedrich had a monster year and, if you ask me, got completely robbed when he didn't make All-American. He averages 1.6 yards a carry more then FSU Michael Kovach does and only has 127  fewer yards despite 76 less carries. The people in Boise are right to be complaining about the lack of love showed to them on this week's podcast. Shane Masters is a fan favorite and nobody wants to see him graduate. He has a big task ahead of defending the potent read option. Shane has 12 TFL which ranks up toward the top of the league.
Prediction
Blake Moon does it again with a TD pass to Devonta Duncan to win the game late in the 4th.
Auburn 45, Boise 42