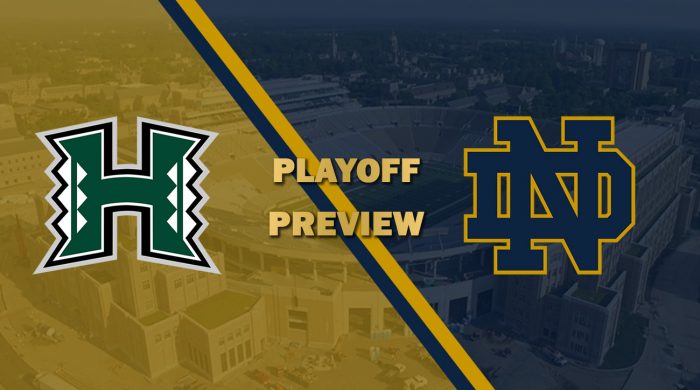 These two teams are very familiar with each other as this will be the 3rd time they play this year. These two teams split the two games so far with both games being close. Notre Dame enters the playoffs with a ton of confidence winning 4 of its last 5 games. Hawaii enters the playoffs in a major slump losing 3 of the last 4 games. Hawaii must get Elliot Tubigutz going who looked much better last week after a brutal three-game stretch. In the last 3 games, Tubigutz is averaging close to 10 carries  a game and that's just way to much for a 288 pound QB.
What to Look For
Can Notre Dame throw enough to keep Hawaii honest? At this point in the year you are what you are so I don't see any team drastically changing what has got them to the playoffs. Notre Dame is 2nd in the country in rush offense, just one yard shy of 1st place. They are dead last in passing offense with only 203 per game. Hawaii, on defense, leads the country in passing yards allowedwith 202 per game and leads it by a wide margin. Notre Dame has to be able to pass enough to keep the defense honest and not rely to much on the run game.
Key Matchup
Tim Riggins vs Tyler Smith / Devonte Griffin
Tim finished the year just short of 900 yards rushing while averaging just under 5 YPC. He is the best in the country at finding the end zone with 17 rushing TD's which is three more then anyone else. Tyler Smith is one of the best defensive players in the country as a 5* freshman with over 70 tackles.  Devonte Griffin is another 5* player that will be key to slowing Riggins down and Devonte leads the country with 16 TFL. This Notre Dame defense has been fantastic against the run all year and is 40 yards better then the 2nd place team. Despite Riggins year overall, Hawaii is 2nd to last in rushing offense. The key to the game could be if ND trusts its run defense in the red zone or if they get aggressive and bring Tyler Smith up to help.
Prediction
Hawaii scores a late TD by Riggins to make the game look closer then the final score says.
Notre Dame 31, Hawaii 24