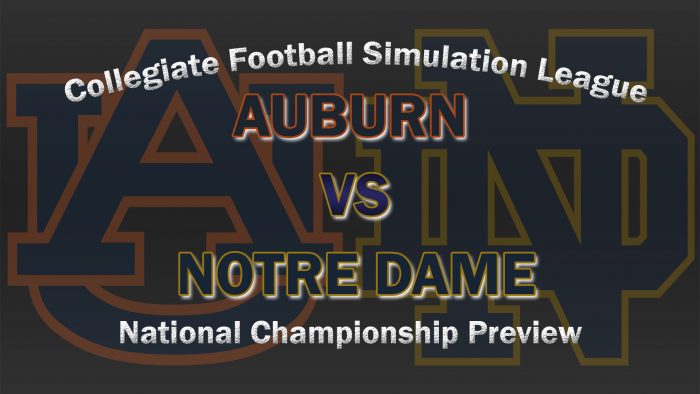 Tomorrow night is the night everyone has been waiting for, as the CFSL finds out who is crowned as national champions between No. 4 Auburn and No. 2 Notre Dame.
It's the makings of a fairy tale season for the Auburn Tigers, with a rocky start to their season and several 4th quarter comebacks necessary to catapult them into the playoffs. Auburn was a team that many had counted out early on, including athletic director Matt Pack who commented saying, "I'm not gonna lie, early on this season, as we were struggling on offense, I would have called you crazy if you told me where we would end up." But the Tigers weren't out of it, handling business against Florida State to claim their playoff berth and rolling into Boise to claim their National Title bid, most of which fell on the shoulders of QB Blake Moon, who seemed to have a response throughout the season.
"He's special. He's not a big talker, he credited his teammates for the awards he won. He does his talking on the field. I'm very proud of this team. Blake has emerged as the natural leader I hoped he would be when I recruited him." said Pack.
But this Auburn team, having to fight their way into this spot, will need to continue that fight going up against No. 2 Notre Dame. The Fighting Irish have a bevy of talent on this roster, 5 All-Americans, 4 of which play on the defensive side of the ball and the Defensive Player of the Year in Justin Philhart. It's part of why they rank 1st in Run Defense, allowing only 120.5 yds/game on the ground. Offensively for the Irish, Gage Bodine has been a key contributor offensively and in special teams, making Ty White's job exceptionally easier in the passing game.
The last time these two teams played, Notre Dame won 38-21, with 28 of those points coming in the second half. Blake Moon was efficient but lacked help from 4-star HB Brandon Davis who had 16 carries for 39 yards. Auburn has the 2nd ranked offense among playoff teams, 3rd among the league and will need a big showing from this offense against a powerful defense.
Here's a sneak peek at the title game:
Key Offensive Player for ND: QB TY White
White will need to play crisp, mistake free football against this Auburn team. Against Hawaii, White went 17/24, 144 yds and a TD through the air, with another 93 yards on the ground on 12 carries. On the season, White has maintained that efficiency with completing 67% of his passes for 1,834 yards, with a TD:INT ratio of 13-6. He's been solid throughout the course of the season and will need to maintain that composure.
Key Defensive Player for ND: OLB Justin Philhart
This Notre Dame defense is loaded with defensive talent as mentioned, but Philhart is the Player of the Year defensively with the Fighting Irish athletic director calling him, "deserving" and crediting Philhart with playing a major role in their playoff run and national title hopes. Philhart recorded 63 tackles, 12 TFL, 4 sacks, and an INT on the season. He'll need to have an equally impressive game against Auburn's offensive player of the year.
Key Offensive Player for Auburn: QB Blake Moon
Impossible to talk about Auburn without talking about their All-American, Offensive Player of the Year QB Blake Moon. Moon has led his team to several 4th quarter comebacks and some impressive performances, including his 9 TD performance against Iowa that went into triple overtime and is heralded as an instant classic in the CFSL. Last week, Moon had an answer for each Boise drive, racking up 400 yds of total offense by himself. On the season, Moon has established himself as the best QB in the league, with a 4:1 TD-INT ratio (20 TDs, 5 INTs) and the best QB Rating on the season at 156.4. He'll need to continue his magically stellar ways to make history in the CFSL.
Key Defensive Player for Auburn: SS Eric LeClear
LeClear has led the Auburn defense in tackles this season and has made several plays in and around the line of scrimmage. LeClear will be counted on as the last line of defense and have to add coverage support over the top to slow down Gage Bodine.
X Factor: Late Game Stops
As we've seen in the playoffs and throughout the season, teams get hot late in games, and no one has been hotter late in the game than Blake Moon. In these late game moments, each 3rd down becomes more and more pivotal and will require units to play in concert. The team with the most stops late in the game will decide the outcome of where the National Title trophy ends up.
Storyline to Watch: POTY Collide
Two players of the year square off in both Blake Moon and Justin Philhart. What makes this most exciting is that they each play offense and defense respectively. Philhart and Moon will see each other on every single snap and it's part of why tomorrow night's championship game is even more intriguing.
Key Matchup: Brandon Davis v. ND Rush Defense
Notre Dame has the best rushing defense in the league, and the last time these two teams faced, Davis was held to 39 yards on 16 carries. To keep the pressure off Moon and allow him to work his magic, Davis will need to have the same performance as last week in the win over Boise. (27 carries, 159 yards, and 3 TDs). If Davis gets rolling, then Blake Moon doesn't have to do it all and increases Auburn's chances of bringing home the trophy significantly.
Tomorrow night is a big night, for the players, coaches, and athletic directors as the CFSL world looks on, waiting to see who will be crowned as National Champions. It's been a memorable season, full of excitement, disappointment, highs, lows, and everything in between, and it's all led up to this. No. 2 Notre Dame and No. 4 Auburn will square off, but only one can be seated in the throne. Don't miss out on the biggest event of the summer!