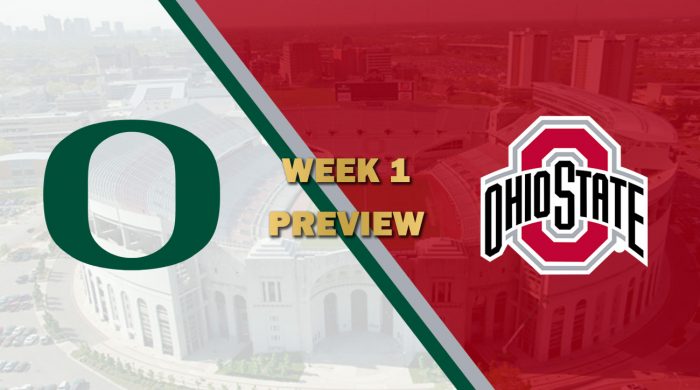 The Ducks come into Columbus with a secondary that has the makings to be great, and a supporting cast surrounding the QB transfer Jay Smith. This matchup has the makings of tales to come, as the Oregon AD spent time as an assistant to Ohio State last year, and is eager to put the hammer to the Buckeyes but will have to do so without a scholarship player due to sanctions that occurred this offseason.
Ohio State comes in with an entirely new look, returning 3 starters from last season they worked in recruiting, revamping the secondary and landing who has been labeled as the No. 1 recruit in the nation in QB DJ Moss who fills the shoes of Jay Smith and is ready to guide Ohio State to a big game under the lights.
What to Look For
DJ Moss has been heralded as one of the best, meaning there's a lot of expectations surrounding him and this Ohio State offense. He'll be under the lights with a cast around him to go against a top tier secondary.
Key Matchup
QB DJ Moss v. Oregon Defense
DJ Moss is a dual threat QB, meaning he has the ability do it in the air and on the ground. He'll need to do so against an Oregon defense to lead the way for HB Adric Khan.
Prediction
The Buckeyes and Ducks have similar experience amongst their coaching staffs, the good news for the Buckeyes is that they have a full roster and early favorite to be All-American at QB. This Oregon defense stands in the way and Jay Smith looks to fight off the mantra surrounding him from last season. The Ducks will put up a fight, but in Columbus? The Buckeyes start the season with a win.
Oregon 21, Ohio State 28