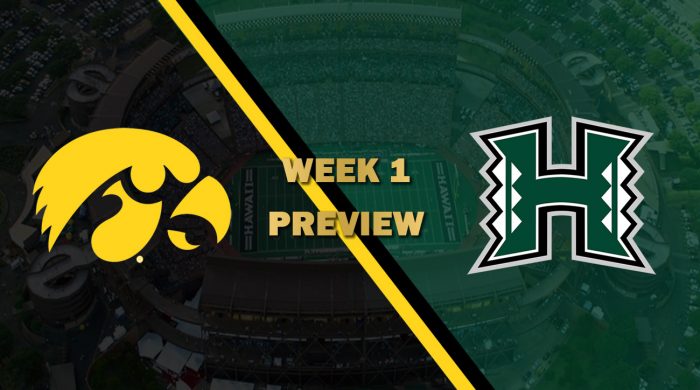 The Rainbow Warriors get to start their new season at home, coming off a playoff year that ended with them on the outside looking in at a title bout. Things are different out on the islands this year though, as Hawaii has a bevy of talent on the offensive side of the ball, a major improvement from last season. Their secondary sees some returning starters, but unfortunately, this defense may be their weakness.
The last time the Hawkeyes traveled to Hawaii, they fell 24-21 in a miserable outing from their kicker and Justin Meis struggled. Now, the Hawkeyes return with an impressive supporting cast surrounding the returning QB. On the flipside, Alvin Mack and Jerry James both return to lead the front 7 while Joey Hanson returns in the secondary and former WR Neal Mason has been added to a talented secondary, the question is, will it be enough to improve from their 2-7 record from last year?
What to Look For
This Hawaii offense is one of the most impressive in the league, coming off a night where offenses were abound amongst the top 4 teams in the league. The question is, can this Iowa defense, led by Jerry James, be able to slow them down enough for Meis to have a solid season.
Key Matchup
HB Ron Dayne Jr. v. MLB Jerry James
It's hard to pick, as this Hawaii offense might be the most stacked in the league, but the idea of Dayne and James facing each other for the whole game sets up an incredibly intriguing matchup. Last season James had 78 tackles, 11 TFL, and a sack. James and Dayne make for a great matchup tonight.
Prediction
This Hawaii offense is extremely powerful and while Iowa has made some defensive adjustments, I don't know that it's enough to slow down the Rainbow Warriors. Justin Meis will have to be stellar for Iowa to have a chance, but his surrounding cast may not be able to deliver for him. The Hawkeyes fly home 0-1.
Iowa 24, Hawaii 42