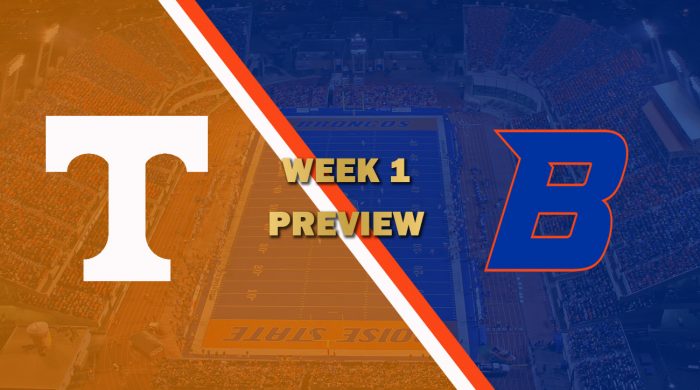 The Volunteers come into this new season with some changes. An upgrade at QB and WR highlight the biggest changes to the offense while this defense has been reloaded, seeing 4 returning starters, all of whom are some important names to that defense. Drew Eggers will aim to lead this offense and Mitchell Kennedy is poised for a breakout season if this offense gets rolling early.
As for Boise, they come in off a disappointing playoff loss to Auburn, but Aidric Berry is back and looking for revenge, and Tennessee stands in his way of beginning that campaign. These two teams faced each other in week one last season, where Boise controlled the game yet won by 3. This offense looks strong, and this defense is absolutely loaded but not without weakness. The question is if the rest of this defense can cover up some of those holes.
What to Look For
Tennessee had a rough start last season but things are different, and they aim to get out to a roll fast and early. That starts with the offense getting into an rhythm early and this reloaded defense picking up where they left off from last season. Tennessee can't afford to start out slow with two more former playoff teams on the horizon.
Key Matchup
WR Ty Jones v. CB Darius Bowman & Darwyn Garcia
Garcia and Jones are new to the league, but Darius Bowman has experience. For Tennessee to get rolling early, Jones is going to have create separation against these two CBs, otherwise, Eggers might be in for a long night if he can't make big time throws.
Prediction
Boise has the playoff experience from a season ago and a loaded defense, but Tennessee is looking to get off to a hot start, not eager to suffer the same fate as last season. Tennessee gets the opportunity to spoil the Broncos' home opener much like Boise did for the Vols last season. Unfortunately, I don't see that happening tonight with this Boise defense on the field.
Tennessee 14, Boise 24