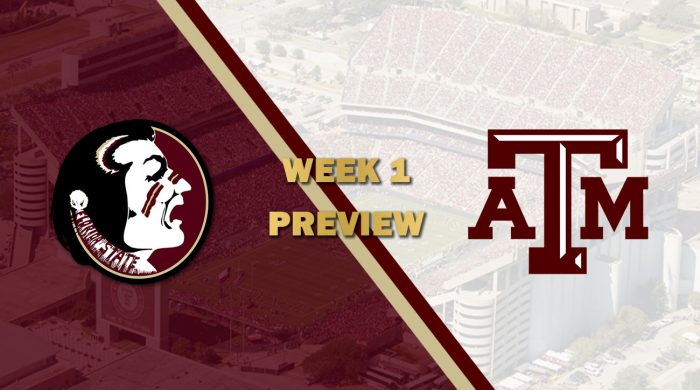 By Michael Buck:
Welcome to the league Texas A&M!
Both Texas A&M and Florida State come into this season with one goal in mind, a National
Championship trophy.
Florida State returns in year two of CFSL after 5-4 season. Florida State is led by returning QB
Elias Gonzalez, who threw for a little over 2200 yards and 16 touchdowns last season. HB
Michael Kovach also returns for his Senior year, after rushing for 1138 yards and 12 TD's last
season and being named All-American. Trevor Golinar and Matt Gerhart both return at the WR
position as experienced Sophomores. Florida State is anchored on defense by highly recruited
5-Star Freshman Brum James at DB, and incoming 5-star Senior Paxton Murray at OLB. Nathan
Tetonis joins the secondary at DB as well as incoming 3-star Sophomore James Dunn at Safety.
Kicker Kody Hill returns for his Junior season after completing 10-11 successful field goals last
year.
Texas A&M will be led in year one by their outstanding Running Back, Tim Riggins. Riggins, a
transfer from Hawaii, rushed for 917 yards and 18 touchdowns last season for the Golden
Rainbows. He comes into this season with high expectations for his Junior year. Handing the
ball off to Riggins will be Dual-Threat 5-Star Freshman QB Daniel Murphy. Murphy hails from
Ohio, and if he can stay healthy, Murphy can become one of the top QB's in this league.
Catching the ball from Murphy will be incoming transfer Alex Cook. Cook came to Texas A&M
via Iowa and caught 37 balls for 440 yards and 3 touchdowns last season. Surrounding Cook will
be incoming Freshmen Blake Herrington and Horace Lynch. On defense, A&M will be led by 5-
Star Freshmen DE's Dimitri Drago and Joshua Kiper. In the secondary, the Aggies will have 5-
Star Freshman Kalu "BJ" James, and incoming Senior Alex Darr.
What to Look For
Texas A&M will be playing their first game as members of CFSL, and it could be a long game
depending on how well this recruiting class handles the first game jitters. Florida State returns
plenty of experience on the offensive side of the ball and will need to score early to keep Texas
A&M on their heels and force Daniel Murphy to try and win this game for the Aggies.
Key Matchup
Florida State Offense vs Texas A&M Defense
How do you stop an All-American Running Back? That will be the question that Texas A&M will
need to solve if they want to win this game. Texas A&M has plenty of talent on the defense but lacks in experience. If Florida State can exploit the youth of Texas A&M early into mistakes, A&M might have trouble winning this game.
Quotable Quotes
"Expectations for the season, I would say if we can go over .500 in our first season, I would say
that is a great way to start building a program off of. We were projected to finish with 3 to 5
winds. I feel like our team has the potential to win 6 or even 7 games."
-Texas A&M AD
"I expect us to have an amazing season this year with all the talent we have retained on offense and the new additions we have on defense I think we are gonna be at the top competing for a national championship."
-FSU AD
Prediction
Look for Texas A&M to lean heavily on Tim Riggins and put this game out of reach early on.
Florida State 28 Texas A&M 41