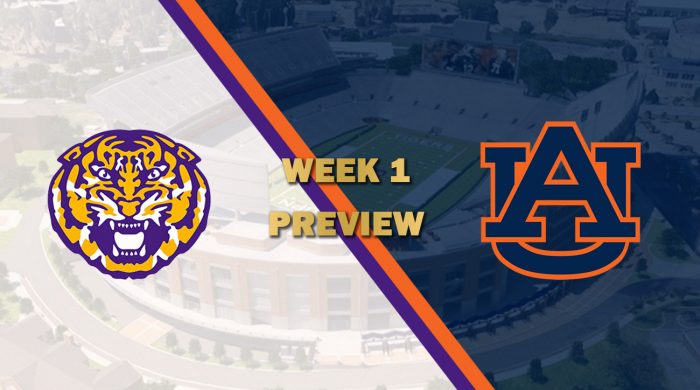 The LSU Tigers enter into Auburn tonight with a season full of hopes and aspirations, with QB Ray Tatum being the key holder to those hopes. Tatum is surrounded by an interesting cast, with WR Jared Tetonis being the standout. The rest of the cast will have to do its part in order to make sure Tatum can get those shots to Tetonis down field. The question is this defense, where the LB corps is solid, but the only real secondary stand out is CB Tyrell Mathieu, and even then this secondary has a couple holes.
Auburn on the other hand comes into the season off a disappointing National Title run where they fell short in the Big Game. The good news is that this offense has returned in its entirety for another run with Blake Moon once again at the helm. The bad news is that this defense only has 3 returning starters, where it has lost some pass rushing ability, but upped their secondary, I'm just not sure if it's enough to offset the losses they sustained in the front seven.
What to Look For
Auburn is out to right the wrongs of last season, a slow start and falling short of a National Title. To do so, they need to start strong against an LSU defense that is ripe for this to be done. Blake Moon will need to pick up where he left off from last season and direct the show.
Key Matchup
WRs Devonta Duncan & Ethan Smoker v. CBs Tyrell Mathieu & Mike Teo
The outcome tonight will be likely decided by battles on the outside. Teo and Mathieu will square off with Duncan and Smoker on separation and big plays. If Duncan and Smoker get loose for Moon to get them the ball, watch out, LSU could be in for a game of catch-up.
Prediction
Ultimately the Auburn offense is back in force, returning all 6 starters. LSU has a decent offense but it can't keep up with what Auburn has shown itself capable of (scored 74 in a game last season). Since LSU's offense can't keep up on it's own, the LSU defense will need to slow things down, and I just don't see the pieces there capable of doing it. Auburn starts with a bang.
LSU 21, Auburn 31