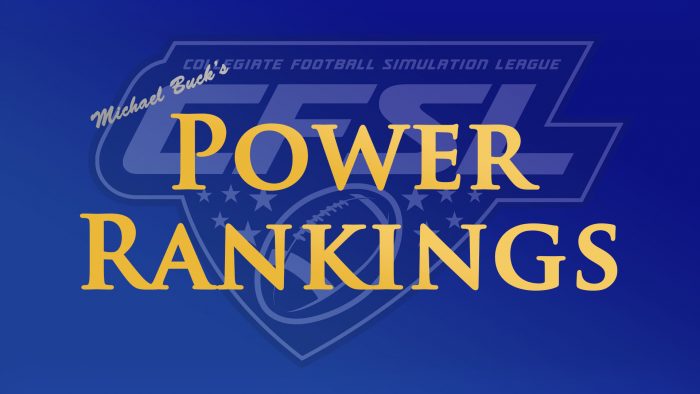 WEEK 1 RECAP & PROJECTED POWER RANKINGS
By: HornsNation05
What a week it was! From overtime battles, to last play of the game mania, this week was a week to remember. If the rest of the season matches up like this first week, look out we are in for a very exciting season! Let's dive into Power Ranking Projections
1 – MICHIGAN 1-0
(+1)
Last Week: Win vs Notre Dame 37-24
To be the best, you must beat the best. That's exactly what Michigan did by beating National Champion Notre Dame. Leeroy Jenkins ran wild over Notre Dame's defense en route to 171 yards on the ground with 2 TD's. Michigan can make it two in a row if they can beat Boise State next week.
Up Next: Boise State (0-1)
2 – OHIO STATE 1-0
(+1)
Last Week: Win vs Oregon 48-25
Ohio State handled its business en route to a blowout win over Oregon 48-25. AK47 was the star of this one with 94 yards on the ground and 148 receiving. Going forward, teams are really going to have to game plan against AK47 to have any chance. He is THAT good. Ohio State heads to Florida State to lock up a 2-0 record.
Up Next: at Florida State (0-1)
3 – NOTRE DAME 0-1
(-2)
Last Week: Loss vs Michigan 24-37
Championship hangover? Certainly looked that way. Notre Dame was manhandled and humbled by Michigan on the opening game of the season. Ty White and the offense could not get much going against a good Michigan defense. Notre Dame heads home to play another tough defense in LSU.
Up Next: LSU (0-1)
4 – AUBURN 1-0
(+1)
Last Week: Win vs LSU 38-35
Moon and company survived a scare to expansion team LSU. Thanks to their defense stepping up in the final moments, Auburn moves on with a perfect record. Moon wowed everyone with his arm, going 24 out of 30 for 305 yards and 2 TDs. Brandon Davis Jr. also showed to not forget him this year with 3 TD's on the ground. Auburn heads to College Station to a great matchup against Texas A&M.
Up Next: at Texas A&M (1-0)
5 – HAWAII 1-0
(NC)
Last Week: Win vs Iowa 62-59
Hawaii survives! After Hawaii's defense held Iowa to a field goal in overtime, one pass to Ace Mcfreely in OT and Hawaii walks out with a win. Hawaii needed this one, as Iowa stormed back in the second half to force the game into overtime. Ron Dayne Jr. led the Golden Rainbows with 162 yards on the ground. Hawaii takes on Oregon next.
Up Next: Oregon (0-1)
6 – OREGON 0-1
(-2)
Last Week: Loss vs OSU 25-48
Well not much to look at as Oregon struggled in their first game of Season 2, succumbing to Ohio State 25-48. Oregon looked lost on Offense and could only gain 174 yards on the ground and 160 through the air. Oregon heads out to Hawaii with hopes of coming back from the islands with a win.
Up Next: at Hawaii (1-0)
7 – TENNESSEE 1-0
(+2)
Last Week: Win vs Boise State 24-17
Blue turf? Not a problem for Tennessee. Kyle Miller walks out with almost 300 yards passing and two touchdowns to lead Tennessee to the victory. Tennessee heads to the cornfields of Iowa for next week's matchup.
Up Next: at Iowa (0-1)
8 – BOISE STATE 0-1
(-2)
Last Week: Loss vs Tennessee 17-24
Boise State had their chances against Tennessee but could not convert on 4th down late in the game to try and tie. Joe Friedrich had a solid game on the ground with 102 yards rushing, and Aidric Berry threw for 223 yards, but in the end it was the sacks that doomed Boise State on their final drive. Boise heads to Michigan in what will be a tough matchup.
Up Next: at Michigan (1-0)
9 – TEXAS A&M 1-0
(+2)
Last Week: Win vs Florida State 43-40
How is that for your first game in the league? Upstart A&M were able to come away with their first league victory over Florida State 43-40. Daniel Murphy cemented his place as one of the top QB's with over 400 yards passing and 5 Total TD's. Most surprising thing about this game? Where was Alex Cook on Offense? A&M will take on reigning All-American QB Moon next week at home against Auburn.
Up Next: Auburn (1-0)
10 – IOWA 0-1
(-2)
Last Week: Loss vs Hawaii 59-62
Tough loss for Iowa as they were able to take the lead in the second half against Hawaii before falling in overtime on Hawaii's first possession. Iowa rushed for over 400 yards against Hawaii, with Justin Meis leading the way with 210 on the ground. He did make some costly mistakes with 3INT's, but if Iowa can keep running the ball successfully and limit turnovers, they can make some noise against other high powered offenses in this league. Iowa takes on Tennessee at home next week.
Up Next: Tennessee (1-0)
11 – LSU 0-1
(-1)
Last Week: Loss vs Auburn 35-38
In a game that should have been won at the end, LSU pulls a Pete Carroll and passes with a couple seconds left on the goal line. We all know how those types of decisions end, with an INT in the end zone. Make no mistake about it, LSU looks to be the real deal with freshman QB Tatum having his way through the air with 442 yards passing. But it's freshman mistakes that cost LSU the W with 2 INT's. Solid work by Michael Sudeikis with 5 sacks on Blake Moon. LSU heads to South Bend to take on a Notre Dame team that is surely going to come out with a vengeance.
Up Next: at Notre Dame (0-1)
12 – FLORIDA STATE 0-1
(NC)
Last Week: Loss vs Texas A&M 40-43
In a game that should have been won against a new expansion team, Florida State could not figure out A&M's Offense. FSU allowed almost 600 yards in total offense. Not the type of outlook you are looking for from a FSU team. FSU was lead by a solid performance by QB Elias Gonzalez and Michael Kovach. Florida State heads to Ohio State next week.
Up Next: at Ohio State (1-0)
Biggest Risers: Texas A&M, Tennessee (+2)
Biggest Drop: Iowa, Boise State, Oregon, Notre Dame (-2)