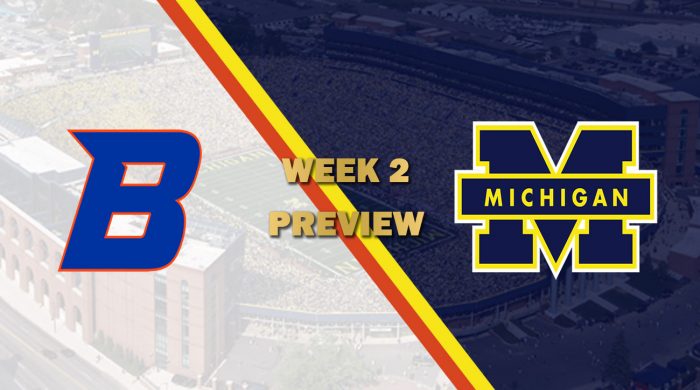 Week 2: Boise State at Michigan Preview
by HornsNation05
This week, Boise State and Michigan meet for the first time here in Season 2. Boise State is coming off a close loss to Tennessee 24-17. Michigan is coming in off a huge win over Notre Dame 37-24. Boise State will look to lean on their defense, against a tough Michigan offense. This game will be a classic and a fun one to watch.
What to look for
Offense vs Defense. Boise State is loaded on defense with four 5-star players at LB and DB, and one 4-star on the defensive line. On the opposite side, Michigan is loaded on offense with four 5-stars. This will be a classic game of offense vs defense. Will Leeroy Jenkins repeat his success last week where he had 171 yards on the ground? Or will LB Tylar Jones-Drew and TJ White impact the game for Boise?
Key Matchup
Michigan WR's vs Boise State's Secondary
Michigan carries three play makers at wide receiver, Bobby Jackson, Derek McFadden and Markell Chapman. Javon Mack will have a tough time getting these WR's the ball if Boise State's secondary of Darius Bowman and Darwyn Garcia are able to lock them down. None of the WR's were able to do much outside of Bobby Jackson last week against a tough ND defense.
Quotable Quotes
"Boise is a tough team. Probably as good as ND on defense. This will be an extremely tough game. I like our offense vs. anyone, but these guys have the horses to make it a long day for us." -Michigan's AD on playing Boise State tonight.
"They have alot of weapons on offense but we also have alot of guys that can counter them… we have two 5 star corners to match their wide outs…. but really what we need to do is just make sure to tackle and not let up the big plays… that's what hurt us last week was miss tackles and the intermediate pass game.." – Boise State MLB Tylar Jones-Drew on how to stop Michigan's offense.
Prediction
This game is a hard game to predict. Both Boise State and Michigan have the star power to tilt the game in either direction. But in the end, I believe that Boise State will bounce back after a tough loss last week, and take Michigan down at the Big House. Boise State's defense will be able to hold a powerful Michigan offense at bay, while Aidric Berry has the type of game that we expect of him after last week's fluke.
Boise State 34, Michigan 27