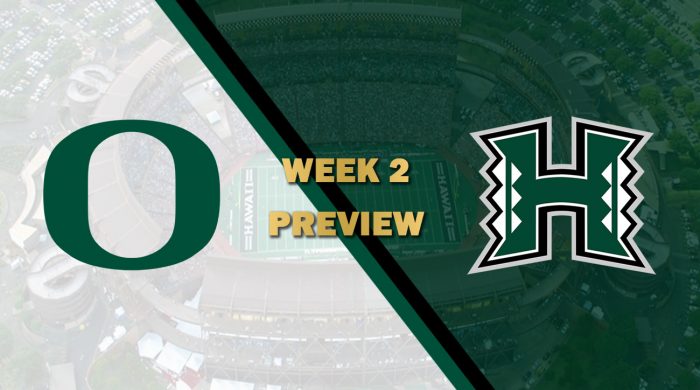 Week 2: Oregon vs Hawaii Preview
By: HornsNation05
Outlook:
This will be the first meeting between the Oregon Ducks and the Hawaii Rainbow Warriors.
Both teams come into this game on opposite sides of the spectrum. Last week, Hawaii had an offensive explosion en route to defeating Iowa 62-59. Doug Ohle provided the majority of the offense with 7 TD's and was rightfully awarded Offensive Player of the Week for Week 1.  Oregon, on the other hand, struggled against a tough OSU team and lost 48-25. Oregon suffered on 3rd down, only converting 4 out of 13 attempts.
What to Look For:
Can Oregon stop Hawaii's offense? Oregon recently added a new 3-star safety to their star studded secondary, and Oregon is going to need their defensive backfield to step-up after giving up 48 to OSU last week.
Was Hawaii a victim of high scoring affair last week that allowed Ohle to score 7 TD's? Can their offense continue at this absurd rate? Those questions will likely be answered in this game as adjustments will be made to try and stop Hawaii from running their offense.
Key Matchup:
QB Doug Ohle vs Oregon's Secondary 
Doug Ohle, a 5-Star Freshman, will look to continue his march to Offensive Player of the Year after a huge output last week. In his way will be star's Thor Odinson, Jack Frost, and Israel Cassius in Oregon's secondary. Thor, Jack and Israel are all 5-Star recruits will look to put last weeks defensive debacle behind them.
Quotable Quotes:
"Well we added a new member to our defense and we pray that helps out a lot. I think defensive wise we needed that blow out as a wake up game. Trust me, Oregon has the best defense and it will show." – Oregon's AD on what they need to do to stop Doug Ohle.
"Doug Ohle was largely overlooked in the recruiting process but he has all the tools. Couple that with his supporting cast on offense and we expect him to have continued success – not necessarily 7 TDs success – but we are counting on him to have a big game." – Hawaii's AD on if Ohle can continue his rate of success this week.
Prediction:
Oregon had a bad week last week against OSU, but they are still loaded on the defensive side of the ball. It would be fair to state that Ohle probably will not get 7 TD's this week. Look for Oregon's defense to step up and slow this Hawaii's offense down.
Oregon 34, Hawaii 31