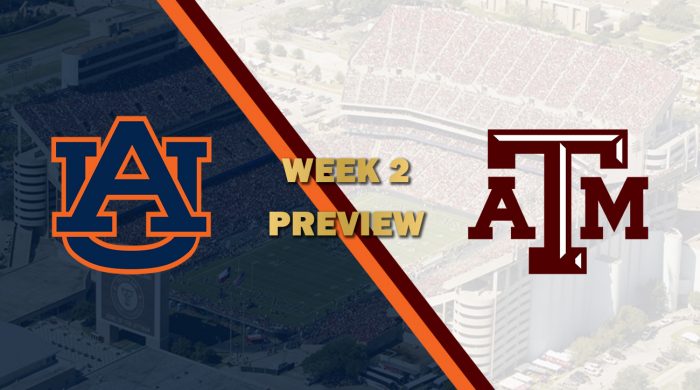 The Auburn Tigers begin a two game road tour with a trip to College Station to square off with the Aggies. Everyone knows the tale of QB Blake Moon by now, but it was SS Eric Leclear who sealed the victory for the Tigers last week against LSU. This offense looked solid despite taking on 11 sacks last week, something that appears to be remedied. This secondary will need to show improvement against QB Daniel Murphy of the Aggies.
Speaking of the Aggies, they managed to hang on to a three point win over the Seminoles last week, after giving up 14 points, seven of which came off a pick-six thrown by Daniel Murphy on his first pass in the league. Murphy rebounded, tossing four touchdowns and rushing in another one. However, Auburn's defense is better than Florida State's and he'll be in for a tough task tonight.
What to Look For
Auburn looked solid, despite being sloppy in pass protection and this week, the Tigers have a challenge in the Aggies' twin DEs, Vladimir Drago and Joshua Kiper. The protection will need to come together and Moon will need to get the ball out of his hands quick to his two, five star wide receivers in Devonta Duncan and Ethan Smoker.
Key Matchup
WRs Duncan and Smoker v. FS Kalu James
It's really not fair to phrase it this way, but the two WRs are going to need to be slowed down somehow, and the best way to do that is by making sure James is playing over the top, taking away the deep routes, forcing Moon to throw underneath. This takes the big play ability out of Auburn's favor and can keep the defense somewhat closer to the line of scrimmage to keep Moon in the pocket.
Prediction
The Aggies were impressive last week, but Auburn is a much better team, and much more rounded. This Aggie defense has some holes that will be exploited, it's just a matter of when. The Aggies will put up a fight, but Auburn gets rolling late to pull away and exit College Station with the win.
Auburn 31, Texas A&M 27