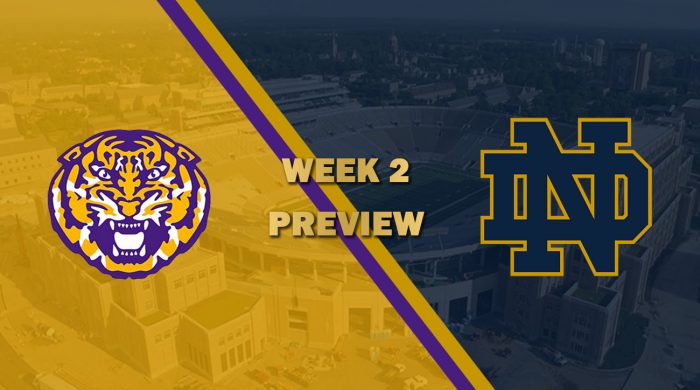 The LSU Tigers take to the road, travelling to South Bend where they'll face off against the 0-1 Notre Dame Fighting Irish. The Tigers also hold an 0-1 record, falling to Auburn last week 38-35 off a back-breaking interception that sealed the game in Auburn's favor. Up until that point, Ray Tatum had played great, and he'll need to have a similar level of play but against a much better secondary. LSU as a whole had played valiantly, but there are a couple questions surrounding this game tonight. How does a team respond to such a loss? And how does LSU try and mimic their record-breaking 11 sack performance, led by Michael Sudeikis and his contribution of five sacks.
For Notre Dame, they need to rebound off a disappointing start, albeit their loss came against the hottest team in the league right now in Michigan. QB Ty White looked fairly sharp, but this offense struggled to keep up at times while the Notre Dame run defense was absent, giving up 300+ yards on the ground. They'll need to respond in a big way to avoid starting 0-2 and falling behind in their division.
What to Look For
I find it hard to believe that this Notre Dame team starts their season 0-2. They got caught sleeping last week, but they're awake now. Expect Tyson Ali to have a pretty big showing, even if it doesn't show up in a stat line, Ali should be able to force Tatum into a few key mistakes, which this Notre Dame secondary, headlined by Antjuan Curry and Tyler Smith, should be able to capitalize on.
Key Matchup
WR Brody Bodine v. CB Tyrell Mathieu
Notre Dame isn't usually known for their offensive talent outside of White and Bodine, and tonight, that connection is going to become even more prevalent. For Notre Dame to have success, Bodine needs to create separation from Mathieu, and that's no easy task considering the CB was fairly successful last week against Devonta Duncan and Ethan Smoker.
Prediction
While LSU has been impressive, they're on the road against a hungry and angry Notre Dame team and I'm not entirely sure LSU has recovered from last week's heartbreak. The Fighting Irish will give Ty White enough opportunities to put his name in the top QB conversation as the Fighting Irish win their home opener.
LSU 28, Notre Dame 35