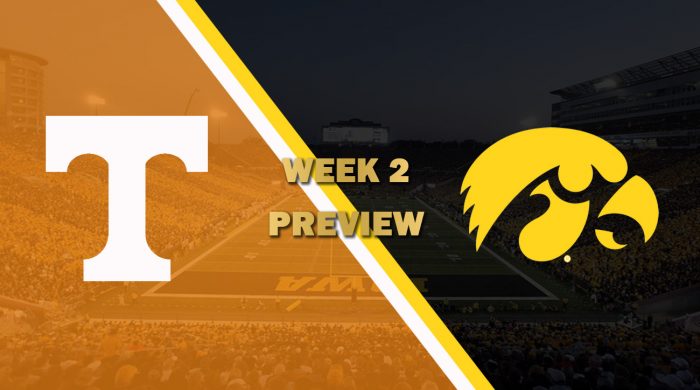 The Tennessee Volunteers travel north to the state of Iowa where they'll square off in what shapes up to be a low scoring, defensive battle. Last week the Vols had a solid defensive outing, while QB Kyle Miller looks to have made massive improvements from last season, going 30/39 for almost 300 yards and two touchdowns against Boise in their first win of the season. Whether or not he can maintain that level of performance against an arguably better defense on paper in the Hawkeyes.
Meanwhile, Iowa returns home after a disappointing loss in overtime to the Rainbow Warriors of Hawaii. The Hawkeyes gave up 62 points while putting up 59 of their own. QB Justin Meis showed his ability on the ground, and his inconsistency through the air. Meis tossed three interceptions and no touchdowns, going 18/31 for 146 yards. The good news, though, is that this Iowa rushing attack is arguably one of the best, as HB Bob Smith had four rushing touchdowns, and almost 200 yards. They'll have their work cut out for them against a tough Volunteer defense.
What to Look For
Expect Kyle Miller to have another solid outing, with Mitchell Kennedy poised to have a big game to open up the play action. At that point, the Volunteer defense has to do what it has been doing, hang onto the lead and shut down an offense that, on paper, shouldn't be able to contend with this defense.
Key Matchup
Tennessee Defense v. Iowa Defense
There's studs on each defense and neither offense has a lot of big time talent outside of their QB and HB. One of these defenses will have to break and the other will do the breaking. Tennessee has the proven defense, while this Hawkeye defense has something to prove.
Prediction
Tennessee has talent in all the right places and Miller appears to have made the leap while Meis has not. Without knowing which Meis is showing up tonight, it's hard to pick Iowa, especially since Meis is going up against a tougher defense. Give me the Vols in a low scoring affair.
Tennessee 17, Iowa 13