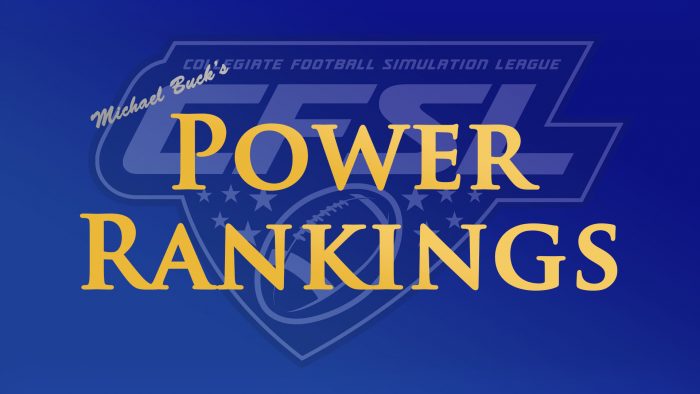 WEEK 2 POWER RANKINGS
By: HornsNation05
No blowout's this week, as we are starting to see quality games from teams 1-12. Top teams Michigan and Ohio State remain in the same spot as last week, while there is some shuffling in the middle rankings. Auburn and Notre Dame highlight Week 3 with a championship rematch!
1 – MICHIGAN 2-0 (LW: 1)
Last Week: Win vs Boise State 38-28
Michigan continues its run on top of power rankings by displacing a tough Boise State defense. Javon Mack led the way completing 30 of 43 passes with 381 yards and 2 touchdowns through the air. Mack also scored a touchdown on the ground. Michigan's 3 WR's Jackson, McFadden, and Chapman all had over 100 yards receiving. Michigan takes on Florida State at the Doak for their first road game.
Up Next: at Florida State (0-2)
2 – OHIO STATE 2-0 (Lw: 2)
Last Week: Win vs Florida State 38-35
Ohio State survived a scare in the 4th quarter by Florida State to hold on for a 38-35 victory. DJ Moss threw for almost 400 yards with 4 total TD's. Adric Khaan also had a big game with 133 yards on the ground and 85 receiving with 2 total TD's. Ohio State heads down to Death Valley to take on 0-2 LSU.
Up Next: at LSU (0-2)
3 – NOTRE DAME 1-1 (LW: 3)
Last Week: Win vs LSU 31-24
Notre Dame started off slow but was able to hang on for a victory over LSU. Ty White threw for 285 yards and two touchdowns, while rushing for another touchdown. White was assisted by HB Jacob Philhart who had 105 yards on the ground. Notre Dame stays at home for a championship game rematch with Auburn.
Up Next: Auburn (2-0)
4 – AUBURN 2-0 (LW: 4)
Last Week: Win vs TAMU 28-27
Another week, another bit of Moon magic. Auburn was able to win a close game against Texas A&M, after a questionable gaffe on the final drive for TAMU. Moon threw for 278 yards and three touchdowns. WR Ethan Smoker caught two of those touchdowns on the receiving end. Auburn heads to South Bend for a championship rematch with Notre Dame.
Up Next: at Notre Dame (1-1)
5 – TENNESSEE 2-0 (LW: 7)
Last Week: Win vs Iowa 38-34
Tennessee continued their run to the top of the standings with a 38-34 victory over Iowa. Kyle Miller threw for 316 yards and 4 touchdowns, with Drew Eggers and Ty Jones on the receiving ends of those TD's. Tennessee was able to convert 70 percent of their 3rd down conversions, while holding Iowa to 1-8 in 3rd downs. Tennessee heads home to host Hawaii.
Up Next: Hawaii (1-1)
6 – OREGON 1-1 (LW: 6)
Last Week: Win vs Hawaii 24-17
Oregon's defense showed up last week, holding high powered Hawaii to just 281 total yards offensively. QB Jay Smith ran all over Hawaii's defense, rushing for 141 on the ground with 153 in the air. Oregon also leaned heavily on HB Randy Moore who had 121 yards on the ground with 3 touchdowns. Oregon heads home to take on Iowa.
Up Next: Iowa (0-2)
7 – HAWAII 1-1 (LW: 5)
Last Week: Loss vs Oregon 24-17
Hawaii's was humbled against a tough Oregon defense, losing 24-17. Hawaii's offensive numbers came back down to earth, with Oregon hold Hawaii to only 281 total yards. Doug Ohle struggled in this game, only getting 113 yards passing. Mason Ryan led the defense with 11 tackles and one sack. Hawaii heads to Tennessee next week.
Up Next: at Tennessee (2-0)
8 – TEXAS A&M 1-1 (LW: 9)
Last Week: Loss vs Auburn 43-40
We may not get our questions answered on what happened the final drive with A&M trailing by one, but A&M is the real deal. A&M was able to hang with Auburn but fell 28-27. QB Daniel Murphy had 339 yards in the air and two touchdowns. WR Horace Lynch had a monster game, catching 14 passes for 174 yards and two TD's. Texas A&M heads up north to take on Boise State.
Up Next: at Boise State (0-2)
9 – IOWA 0-2 (LW: 10)
Last Week: Loss vs Tennessee 38-34
Iowa was able to hang close to Tennessee for most of the game but struggled down the stretch by allowing Tennessee to score 24 in the second half. Justin Meis was able to pass for 156 and rush for 118 and three total TD's. Iowa struggled mightily on 3rd down, only converting 1-8. Iowa heads to Oregon next week.
Up Next: at Oregon (1-1)
10 – LSU 0-2 (LW: 11)
Last Week: Loss vs Notre Dame 31-24
LSU struggled again in the 4th quarter, this time losing to ND 31-24. LSU hung with the Irish, thanks to Ray Tatum and his 312 yards in the air. Jack Brown had a massive game with three touchdowns on the ground and 10 receptions for 112 yards. LSU was able to get to ND's Ty White 5 times with Sudedikis and Green getting 2 a piece. LSU will need to play a perfect game against OSU next week at home.
Up Next: Ohio State (2-0)
11 – BOISE STATE 0-2 (LW: 8)
Last Week: Loss vs Michigan 38-28
Boise State made it close, but eventually fell to Michigan 38-28. Boise State's defense, a staple of this team, struggled at the end. Their defense gave up 542 yards, with 381 coming via the pass. Aidric struggled passing the ball with 194 threw the air. He was able to rush for 117 yards with three touchdowns. Boise State will need to turn it around quick as they head home to face the high-powered Aggies.
Up Next: Texas A&M (1-1)
12 – FLORIDA STATE 0-2 (LW: 12)
Last Week: Loss vs Ohio State 38-35
Florida State made it close at the end, but Ohio State was just too much. Florida State allowed 589 total yards, with 394 through the air. Elias Gonzalez had five touchdowns, along with 333 yards passing. Golinar was able to haul in five receptions for 145 yards and one touchdown. Florida State hosts Michigan next week.
Up Next: Michigan (2-0)
Biggest Riser: Tennessee (+2)
Biggest Drop: Boise State (-3)