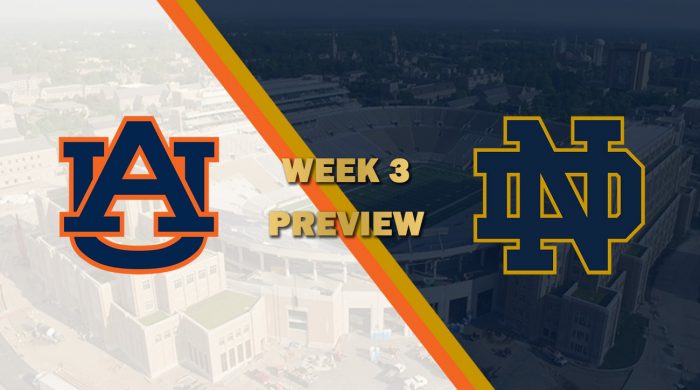 Week 3: Auburn at Notre Dame Preview
By: HornsNation05
Its finally time. Auburn heads to South Bend for a rematch from last years National Championship game where they fell short to Notre Dame.
For Auburn, its a rematch that could not come soon enough. Auburn has relied on Moon "magic" the past two weeks of the season. In week 1, Eric LeClear was gifted an interception that sealed the win for Auburn. In week 2, "timeout-gate" allowed Auburn to escape with a narrow 28-27 victory over Texas A&M. Can Auburn prove that they are not a "fluke" and win a complete game? Can Auburn prevent Moon from being sacked 13 times already this season?
For Notre Dame, they come off a victory against LSU 31-24. The Irish offense seemed to have found it's rhythm late in the game against LSU, and that could prove troublesome for Auburn. Notre Dame's defense will be tasked with slowing Moon down, and preventing his ability to escape the pocket. Notre Dame has only one sack on defense this year, so they will need to get inside pressure to try and thwart this Auburn attack.
WHAT TO LOOK FOR
Both Notre Dame and Auburn have played expansion teams to start off season two of the CSFL. This match-up provides familiarity for both coaches, and we should see a good game plan from both the Irish and the Tigers. Notre Dame will need to slow Blake Moon, and the Tigers will need figure out how to protect Moon better.
KEY MATCHUP
TE Trent Bodine vs MLB Tony Bryant
Last week, Bodine was able to secure nine receptions for 83 yards and provided a safety blanket for QB Ty White. Auburn's All-American linebacker Tony Bryant will likely be tasked with covering Bodine and preventing that security blanket for the Irish's QB. If Bryant can stop Bodine, Ty White will need to look for another outlet.
Quotable Quotes
"I thought our protection improved pretty well last week, but after giving up 11 sacks against LSU, we had to make adjustments. Notre Dame has two monsters on their line in Tyson Ali and Shane Razorback, so we're gonna have to make what adjustments we can to slow those guys down. We also need Blake to speed up his internal clock in the pocket. The defenses this season aren't giving him the time he had last year, so he has to be cognizant of the pressure at all times. He's looked good this week in practice, so that gives us confidence. Hopefully we can replicate it tomorrow night on the field." -Auburn AD Matt Pack on how to get Moon more protection.
"We have to limit his big play ability. He has a ton of weapons around him which makes him so dangerous because he can do it with his feet and his arm. We have to take away either his feet or his arm and pray that the other doesn't do too much damage. I trust our defense to make plays.
Auburn is a very very good team and very well coached. It's gonna be a battle just like last year's title game and I know this game is circled on their calendar. They want revenge from last year's championship game so we got a tall task ahead of us" -ND AD Tyler Hoyt on a rematch with Auburn. 
PREDICTION
This game is likely going to come down to the wire. We know everything about Blake Moon, so can Notre Dame figure out a way to limit his big play ability? This game will be a good measuring stick for both squads this season. I see Blake Moon and Auburn escaping Notre Dame, and gaining revenge on last years National Championship.
Auburn 34, Notre Dame 31