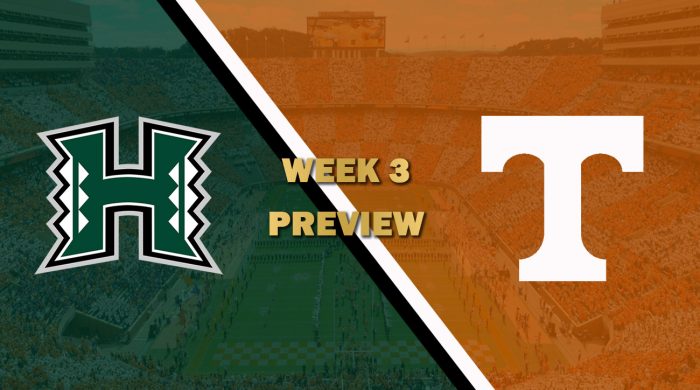 Week 3: Hawaii at Tennessee Preview
By: HornsNation05
This week, Hawaii heads to Knoxville to take on undefeated Tennessee.
Hawaii will look to rebound from last week's offensive disaster. QB Doug Ohle was only able to pass for 113 yards against a difficult Oregon secondary. Defensive tackle Jimmy Sutherland had a massive game with seven tackles, four tackles for a loss, and two sacks earning defensive player of the week honors. The key this week for Hawaii's coach is finding a weakness in Tennessee's defense.
Tennessee is currently 2-0 and won last week against Iowa 38-34. QB Kyle Miller had a good week, completing 34-of-43 passes for 316 yards in the air. He also had four touchdowns, but threw two interceptions. Tennessee will look to attack this vulnerable Hawaii defense.
WHAT TO LOOK FOR
Hawaii's first game was an offensive explosion, but last week they were only able to score 17 points and gain 281 yards in total offense. Doug Ohle will need to figure out how to spread the ball out more, as defenses will be locked onto his favorite target, Jack Tubiqutz. They will also need to get HB Ron Dayne Jr. involved more in the offense early, as Tennessee is ranked 8th in rushing defense.
For Tennessee, they will need to continue to focus on what they are doing well. Currently QB Kyle Miller does great on spreading the ball around to his playmakers. HB Mitchell Kennedy is great at then gashing the defense. Defensively, Tennessee will need to game-plan for shutting Ohle down. The defensive backfield of Ruano, Tillman, Smith and Bradley will be leaned on in stopping Hawaii's aerial attack.
KEY MATCHUP 
RB Ron Dayne Jr. vs MLB Caleb Tuiasosopo
Tennessee currently ranks 8th in the league in rushing defense. This will be good news for Ron Dayne Jr, because if the passing game is struggling, Hawaii can just hand off the ball to their playmaker to create yardage. Tuiasosopo will have a huge task in filling the gaps to stop Dayne. Tuiasosopo was able to garner eight tackles last week, with one being a loss.
QUOTABLE QUOTES
"Ron Dayne, Jr. has been great for us in the early part of the season and I certainly think that getting him involved is a priority for us to be successful on offense and open up the passing game." -Hawaii AD Neal Hennessy on getting Dayne involved early.
"As for flying under the radar, we wouldn't have it any other way. We could care less about rankings or someone telling us how good we are. We are all about coming in to each and every game as prepared as we can be, install a gameplan that gives us the best chance to win and we just take it one game at a time. As for Hawaii, with the weapons they have, stopping them is a very tall task. Our focus will be on keeping everything in front of us, limit big plays and just get stops when we have the chance. On offense, we want to control the line of scrimmage, don't turn it over and win the time of possession battle. This will be a tough game that we cannot make mistakes if we have a chance to win." -Tennessee AD Scott Owens on flying under the radar and preparing for Hawaii.
PREDICTION
Look for Tennessee to quietly continue its run to the top. Hawaii will have to play a perfect game on offense and take advantage of Tennessee's run defense in order to keep this game close. Look for QB Kyle Miller to continue his run for Offensive Player of the Year with a big game against this porous Hawaii defense.
Tennessee 41, Hawaii 24