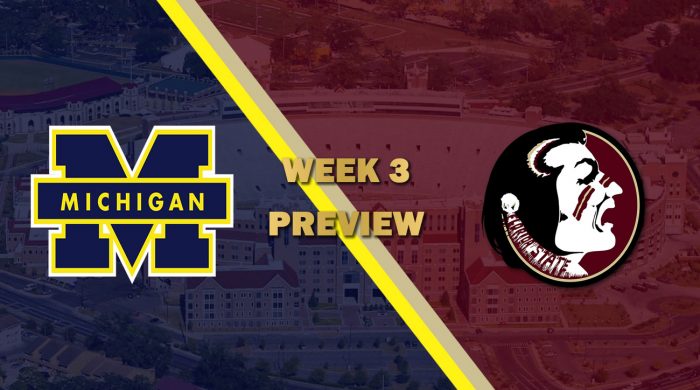 MICHIGAN
The Michigan Wolverines are easily the best team in the league right now. They've won their first two games by a combined score of 23 points, with both games being double digit margins of victory. As it stands right now, there's no real weakness to this Michigan team. The defense has played lights out, being in the top four of five different categories: points per game (26), first downs allowed (19), yards allowed (364.5), passing yards allowed (201.5), and takeaways (3). Middle Linebacker Nate "The Judge" Jones has been stellar and is the key to this defensive success. Meanwhile, Javon Mack has looked like a true dual-threat quarterback with over 500 yards passing and over 150 yards rushing on the season so far. He's got a great cast around him, one that is eager to torch this Florida State secondary.
FLORIDA STATE
The Seminoles come home 0-2, playing host to a Michigan team that is taking to the road for the first time this season. Quarterback Elias Gonzalez has looked much improved on the season, passing for over 600 yards with seven touchdowns and an interception. Unfortunately, his wide receivers haven't always been reliable as there have been a number of drops, explaining Gonzalez's completion percentage of 60%. Still, this offense is absolutely talented as they showed last week against the Buckeyes, able to put together drives and score almost at will. This defense, though, is another matter entirely. They've given up the most total yards and passing yards out of any team in the league, meaning that they're in for a long night against a high-powered Wolverine offense.
What to Look For
The Seminoles have given up 401.5 yards through the air to opposing offenses this season. Translation? Michigan's five star wide receivers should have a heyday and Javon Mack should put on a passing clinic tonight. If the Wolverines don't have at least three passing touchdowns tonight something went wrong.
Key Matchup
Halfback Michael Kovach v. Nate Jones
While the Michigan offense explodes through the air, the Florida State offense should aim to try and control the clock. The best way to do so is through Michael Kovach, who has been an extraordinary talent at halfback. He's one of the bright spots to this Seminole offense, but unfortunately, Kovach is on trial tonight. Nate Jones, aka "The Judge", is looking to lay down the law making this showdown between these two athletes one for the ages.
Prediction
While the Seminoles should be given credit for being able to hang with teams, they shouldn't be able to hang with the Wolverines. Michigan's offense should explode against this defense and run away with this one. It's hard to see Gonzalez being able to make enough plays downfield to keep up.
Michigan 52, Florida State 28