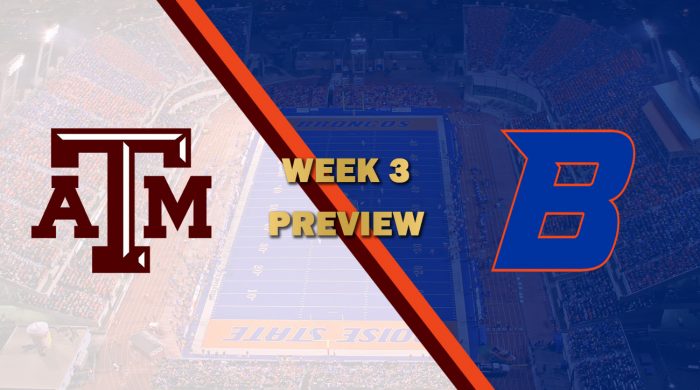 TEXAS A&M
Texas A&M takes to the road for the first time this season., coming off their debacle last week against Auburn. An opportunity to win late was dismissed by poor clock management and a check-down pass by quarterback Daniel Murphy. Still, this team is eager to rebound from last week with a strong showing tonight. The Aggies are looking to stake their claim to the Smurf Turf and should lean on halfback transfer Tim Riggins to get the job done. Riggins had 12 carries for 72 yards and a touchdown last week with eight catches for another 52 yards. If Riggins gets going early, it can help soften this defense for Murphy and co.
BOISE STATE
As for the Boise State Broncos, they return home coming off a ten point loss in Ann Arbor to the Michigan Wolverines. This Boise team is in uncharted waters with an 0-2 start on the season and an offense that has struggled mightily. The Broncos are in the bottom of the league in yards per game, first downs per game, and points per game. Quarterback Aidric Berry has looked solid enough, despite two interceptions to no touchdowns on the season. Eight sacks, and little help from the rest of the offensive cast have hurt this offense. This defense is great, but not a miracle worker and need help from the offensive unit.
What to Look For
Desperation has to be creeping in for the Broncos as they are quickly falling behind in the Big Ten. Teams like Ohio State, Michigan, and Notre Dame are going to be fighting for the top spot and will all be likely contenders for conference champion by the end of the season. If Boise wants to be in on that conversation they need to avoid an 0-3 start. Expect Berry and halfback Joe Friedrich to lean on the read option a lot against a suspect Aggie defense.
Key Matchup
WR Alex A. Cook v. DBs Darius Bowman & Darwyn Garcia
Murphy has looked great this season completing nearly 75% of his passes with six touchdowns and two interceptions. Even more impressive? Those are numbers with two 3-star wide receivers getting the bulk of the targets. Alex A. Cook has been locked down so far this season and one can only wonder how much better Murphy might be if he had access to his stellar target. Cook will have a tough time creating separation again tonight, but if he can, watch out. Boise could be in for a rough night.
Prediction
While it's incredibly difficult to see Boise State falling to 0-3, it's not outside the realm of possibility. Texas A&M hung with Auburn late and if Boise isn't careful, they could be in a similar boat. That said, I think Boise is desperate for a win and the Daniel Murphy at home may not be the same on the road against an even better defense. The Broncos squeak by with their first win tonight.
Texas A&M 31, Boise State 35