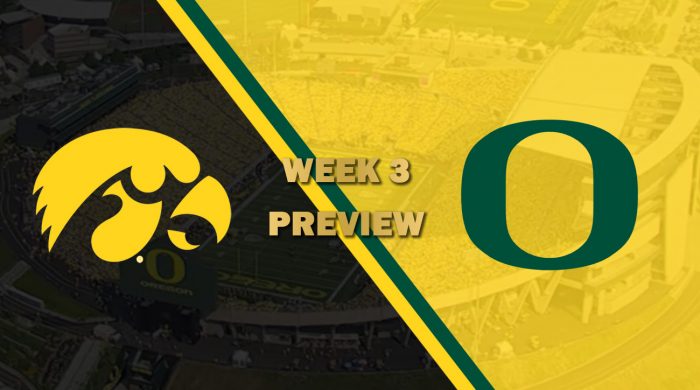 IOWA
Offense
The Hawkeyes return to the road coming off their second loss of the season. A lot of the controversy around the league has, surprisingly, not been the defense which was claimed to be highly talented. Instead, quarterback Justin Meis has been scrutinized once again, despite his performance last week. The consistency at the quarterback spot for the Hawkeyes has been disappointing, with Meis tossing three interceptions in week one and zero last week. It's difficult to predict what will happen on a weekly basis with this unit. Meis will need to step up once again against an arguably stronger secondary in the Oregon Ducks.
Defense
Defensively for the Hawkeyes, middle linebacker Jerry James and safeties Bob Sanders Jr. and Joey Hanson, have flown under the radar. Yet, these three studs have performed week in and week out, recording a combined 46 tackles, six tackles for a loss, and four passes defensed. These three players are accounting for 56% of the team's tackles, making them the major keys to the defense. Still, they haven't been able to stop teams late, giving up points in overtime against Hawaii and the go ahead touchdown late against Tennessee. They face an Oregon offense that remains a bit of an enigma, meaning Iowa has a chance to right their wrongs.
OREGON
Offense
Last week the Oregon Duck offense amassed 24 points, putting them towards the bottom of the league in points per game with 24.5. This offense isn't an explosive one, but that doesn't mean they're not dangerous. Quarterback Jay Smith is at the helm, meaning that opportunities could arise should he take off with his legs. However, Smith doesn't have a great track record against the Hawkeyes. He faced them twice as a Buckeye last season and accumulated an 0-2 record, and just 25 yards on the ground on 30 carries. For a quarterback praised for his legs, he's not in a favorable match-up. He'll have to find ways to air the ball out to his receivers, with wide receiver Bryce Kellogg and tight end Dakota Anderson proving themselves to be the dynamic.
Defense
What the Ducks lack up front, they more than make up for in the secondary. Corners Israel Cassius and Thor Odinson have looked stellar, with safety Jack Frost taking away the deep space. If Meis is going to have another bad game, it'll be against this secondary that is capable of creating turnovers particularly through the air. But, there is concern at how well this secondary can defend the run. Tonight, we'll find out, as Meis is known to be a master of the read option and easily gets to the third level. Cassius and Odinson have combined for only 13 tackles, while Frost has 14 and the linebackers have combined for 22. If Meis gets rolling on the ground, then the Ducks could be in trouble.
What to Look For
Iowa is desperately trying to avoid the mistakes of last season. They struggled to win close games then and have continued to do so this season. The problem for them, is we don't know which Meis is showing up, meaning this game could go either way. If Meis can play clean and not turn the ball over, things should be clear for the Hawkeyes. Expect the read option early and often for this Iowa offense.
Key Matchup
Jay Smith v. Jerry James
These two will face each other for the third time since the beginning of the league. So far, James has had the better of Smith, limiting the quarterback's rushing ability. Tonight, we'll see if being an Oregon Duck has allowed Jay Smith to find the key to rushing success against Jerry James, or if Iowa will continue to be his kryptonite.
Prediction
This one is difficult, and it's hard to point to each quarterback and know what's coming out tonight. The bright side for Oregon quarterback Jay Smith? His defense is opportunistic and will put the ball in his hands more than enough times to give Oregon a chance. Iowa can't rely on Justin Meis through the air to beat Oregon, and I'm not sure he'll be able to get through this secondary easily. Give me an Oregon victory.
Iowa 21, Oregon 24