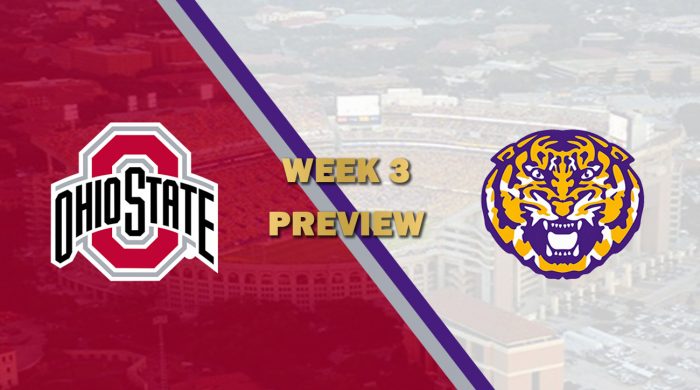 OHIO STATE
Offense
The Buckeyes travel to Death Valley 2-0. Running back Adric Khaan and quarterback DJ Moss have been two of the stellar pieces to this offense, and have been amongst the best in the league. Moss and Khaan have combined for over 1,000 yards of offense on this young season and both players have shown dual threat capabilities. Still, the rest of this offense is no slouch either. Wide receivers Draeton Fasone and Hunter Warren have established themselves as deep threats. This team is highly rated, in part because this offense is in the top five of nearly every team stat on hand. The only statistic they're not top five? Turnovers, having amassed five over the course of two weeks. Still, this offense is incredibly dangerous due to their versatility and well-rounded nature but are about to be truly tested for the first time all season.
Defense
This Ohio State defense is no slouch either, but haven't played great offenses, inflating their stats. Still, no one can deny that middle linebacker Kobe King and free safety Cam'Ron Lawson are the leaders of this defense, while the Buckeye corners have played well in their own right. This defense looks fast on tape, but against an offense with a quarterback that has more help around him, it's hard to say if things change. But, there's no denying, that Ohio State has looked exceptional, and if they want to stay undefeated, this defense will need to do its part.
LSU
Offense
Quarterback Ray Tatum leads the Tigers back to Death Valley, 0-2. Don't let the record fool you though, as LSU isn't a bad team by any stretch. They managed to hang with both the runner ups, and defending national champs. Two plays are all that separates the Tigers from being 0-2 and 2-0. A diving interception against Auburn, and a pass deflection against Notre Dame make all the difference. However, while this LSU team isn't bad, they're not without concern. Tatum has tossed three picks with only one touchdown pass to his name. That's not a good sign for a team that's trying to get out of their rut. Similarly, this rushing attack is the worst in the league, averaging 78.5 yards per game on the ground. If Tatum is hoping to have mistake free football with his two, big-time targets, then this rushing attack will need to step up.
Defense
By this point, Michael Sudeikis is a household name. The defensive end has seven sacks to his name, and is likely responsible for even more. The downside though, is that he's the only household name on this defense. Cornerback Tyrell Mathieu hasn't quite lived up to the hype yet, and nobody outside of Sudeikis has leaped off the screen. Collectively, this defense plays well enough, but they need more production outside of Sudeikis. If Mathieu and middle linebacker Ryan McMasters, who is tied for team leading tackler, can step up, then this LSU defense has a shot at slowing down this Buckeye offense.
What to Look For
Expect Sudeikis to get moved around a lot in order to try and catch Ohio State off guard. If they do, DJ Moss may make a few more mistakes than the Buckeyes are used to seeing. Tyrell Mathieu just needs to take advantage of one or two and the Tigers could pull off the upset tonight.
Key Match-up
DJ Moss v. Michael Sudeikis
Usually, the match-ups that involve the quarterback are centered around the secondary or a linebacker. However, tonight's match-up is between Moss and Sudeikis. The LSU defensive end is definitely eager to bring down the highly touted quarterback of the Buckeyes. If Moss can take the pressure, the fans could be in for a show. If he can't, then it's going to be a long night for the offense.
Prediction
Ohio State has the offensive firepower, but the question is, can their defense slow down LSU. Tatum has played phenomenal despite having more interceptions than touchdowns. Either way, Death Valley is in for a show tonight, as both teams could spend the night trading scores. Fans can expect a shootout, but the difference isn't the turnovers, it's the firepower. Adric Khaan makes all the difference and for that reason, the Buckeyes should escape defeat yet again.
Ohio State 45, LSU 38