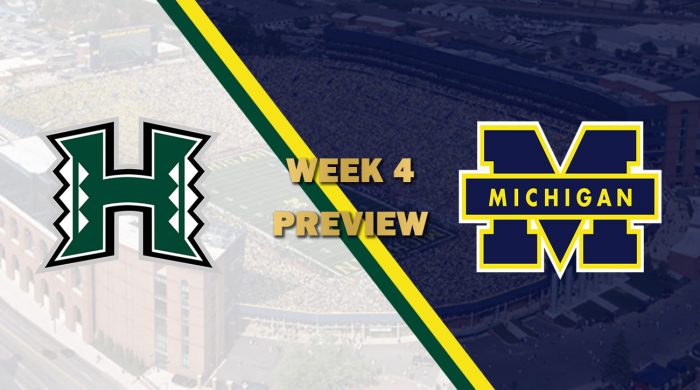 Week 4: Hawaii at Michigan Preview
By: HornsNation05
This week, Hawaii (1-2) heads to Michigan (3-0) to take on the undefeated Wolverines.
Hawaii is coming off a 33-27 win from last week over Tennessee. In that game, Doug Ohle threw for 347 yards with one touchdown. Ron Dayne Junior had a good game with 111 on the ground to go with two touchdowns. Hawaii gained 464 yards of total offense with 347 through the air. On defense Hawaii was led by SS Mason Ryan with 11 tackles. DT Jimmy Sutherland had a quiet game with only one sack.
Michigan is coming off a 70-21 win over Florida State. In that game, Javon Mack and Leeroy Jenkins paced the offense with 631 yards rushing. The dynamic duo also combined for eight touchdowns. On defense, it was the other Mack that contributed with two interceptions and four tackles. DT Lucio Flores started his CFSL career off with two sacks.
WHAT TO LOOK FOR
For Hawaii, this game could be won on how well they can run the ball. There were times last week that Ohle should have handed the ball off to Dayne for close yardage, but passed instead. Hawaii has also struggled on 3rd downs this year, only completing 30% of their attempts. That will need to change, as Michigan boasts one of the top defense's so far against the pass. Michigan is currently 9th against the run, allowing 130.3 yards a game so far.
For Michigan, this will be the defenses first test against a standout offense. Hawaii boasts all their 5star players on offense, with WR Finn Ryan and Jack Tubigutz leading the way. There is no question that the Wolverines offense can score the ball, but it will come down to Michigan's defense against this high-powered Hawaii offense.
KEY MATCHUP
HB Ron Dayne Jr. vs MLB Nate Jones
Nate Jones will be tasked with slowing down a powerful runner in Ron Dayne Junior. MLB Jones is the only 5star player on Michigans defense, and the Wolverines have struggled against the run, ranking 9th. Jones has been the playmaker so far this season for Michigan. Ron Dayne Junior has shown that he can plow over defenses, but Hawaii has been reluctant in giving him the ball in key situations. If Hawaii can give Dayne Junior the ball more often, this will be an interesting matchup in the gaps.
QUOTABLE QUOTES
"The teams we've played thus far are the ones being disrespected, and are better than they are getting credit for. Our offense is good though. Our offense is well balanced and capable" – Michigan AD on if they have played a "real" defense yet.
"Gain yards, score points and hope for the best!! Good luck!!" – Doug Ohle on beating Michigans defense tonight.
PREDICTION
There are a lot of questions that surround this game. Was Michigans win last week over FSU just a big game against an inferior opponent? or is Michigan that good? Can Hawaii stop an offense that has shown the ability to run at will? Will Hawaii escape the ghost of 3rd down?
There have been mentions that this game will be a shootout, but both AD's are great at game planning. We saw that last week with Hawaii slowing down Kyle Miller and previously undefeated Tennessee. We also saw Michigan put up 70 points, the most ever in regulation in CFSL history. I don't think this will be a shootout, but it will be a close game. Look for Hawaii to successfully run the ball at Michigan and win at the Big House.
Hawaii 41, Michigan 38