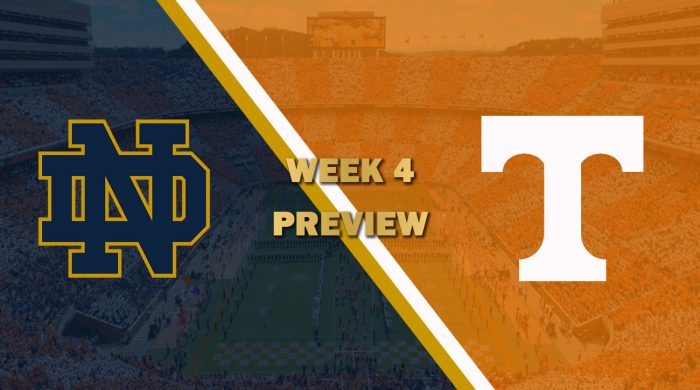 WEEK 4 PREVIEW: NOTRE DAME AT TENNESSEE
By: HornsNation05
This week Notre Dame (2-1) heads to Knoxville to take on Tennessee (2-1).
Notre Dame continues their winning streak after beating Auburn last week 45-35. Ty White had an efficient game, going 22 for 27 and 234 yards. He also had 77 yards on the ground with two touchdowns. Running back Jacob Philhart also had a good game with 98 yards on the ground and three touchdowns. The Irish defense was led by Tyson Ali and Shane Razorback. Ali, a DPOW candidate, had 11 tackles with two for a loss and one sack. LE Shane Razorback contributed with four sacks.
Tennessee stays at home after a disappointing loss last week to Hawaii. The game was mostly back and forth, and Tennessee had their chances to pull through but could not. Kyle Miller was able to throw for 435 yards and two touchdowns to go with one rushing touchdown. He also made some costly mistakes with two interceptions and one fumble. On defense, Tennessee could not get many stops after Hawaii started to roll. The Vols were led by Aaron Smith with 12 tackles, and two for a loss.
WHAT TO WATCH FOR
Notre Dame has been on a roll on offense lately, and backed up with some really good defensive play. Tyson Ali is a beast up the middle, and it allows Razorback to come off the edge better. The Irish will just need to continue to do what works on offense, and thats to be efficient in executing their plays. Ty White does a great job of getting their whole offense involved in the passing game.
Tennessee will need Kyle Miller to work on his turnovers. Last week Miller had three turnovers, two via interception and one fumble. In order for Tennessee to stay in this game, he will need to also to push the ball downfield more. Ty Jones emerged last week with a huge game and 201 yards receiving. If Miller can find Jones more often, Tennessee has a shot.
KEY MATCHUP
CB Trey Elijah vs WR Ty Jones
Last week, Ty Jones had a massive game against a Hawaii defense that did pretty well all game. Jones was able to beat Hawaii's DB a couple times for ten receptions and 201 yards. This week, Tennessee will likely look to get Jones involved more, and that will require a tall task from DB Trey Elijah. Elijah, a 3star, only has four tackles on the year with two pass deflections. He will need to step up to be able to slow down this Tennessee offense.
QUOTABLE QUOTES
PREDICTION
Notre Dame has regained their swagger after the Week 1 loss against Michigan. Tennessee was previously undefeated up until last weeks loss to Hawaii. This should be a good matchup. Notre Dame will continue their winning streak with a big game from Ty White.
Notre Dame 44, Tennessee 30.