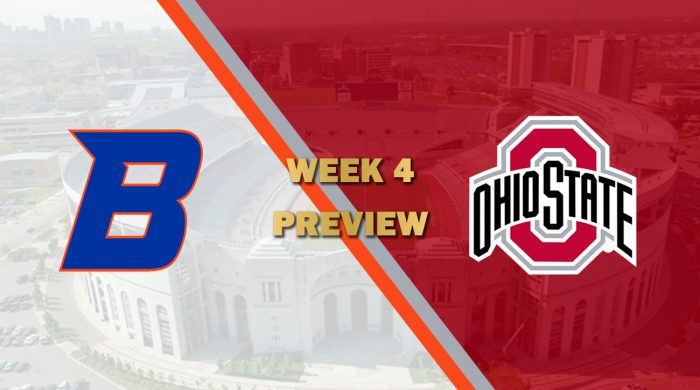 WEEK 4: BOISE STATE AT OHIO STATE
By: HornsNation05
This week the Broncos of Boise State (0-3) heads to Columbus for a matchup with Ohio State (2-1).
Boise State enters this game on a three game losing streak. The Broncos currently have one of the worst offenses in the league, ranked last in PPG, and second to last in total offense. Aidric Berry is completing 65 percent of his passes with 637 yards in the air and three touchdowns. He also has 129 yards on the ground to go with four touchdowns. On defense, Boise State is led by their solid linebacking crew of Tylar Jones Drew and TJ White. DB Darius Bowman is a threat on special teams with 14 returns for 423 yards.
Ohio State comes off a close loss to LSU. The Buckeyes had a nine point lead before allowing 14 unanswered points to LSU to close the game. The Buckeyes are led by QB DJ Moss, who has thrown for over 1000 yards on the season with eight touchdowns and five interceptions. Adric Khaan, or AK47, leads the OSU rushing attack with 273 yards on the ground and four touchdowns. AK47 also has 278 yards in receiving and one touchdown. On defense, Ohio State is led by linebacker Kobe King. King on this season has 21 tackles, with seven of those being a loss.
WHAT TO WATCH FOR
On paper, these teams matchup pretty well. Boise State carries a majority of their 5-star players on defense in Tylar Drew, TJ White, Darius Bowman and Darwyn Garcia. Ohio State carries three 5-star players on offense in DJ Moss, Adric Khaan and Draeton Fasone.  But as we have seen so far, these two teams are heading in opposite directions.
For Boise, they need Berry and their offense to step up to take some pressure off of the defense. Wide receivers Jordan and Hernandez will need to get open quickly, as this OSU defense struggles against the pass. Running the ball against Ohio State will not have much success, as OSU is currently ranked 1st in run defense.
For Ohio State, their offense is going to need to be creative in their play-calling. Boise's LB corps has shown to be able to stop the rushing attack. The Buckeyes will need to get AK47 involved in screen passes, or in space, and allow him to use his speed to beat these defenders. Boise does not sack the QB much, so DJ Moss will have some time to throw the ball downfield.
KEY MATCHUP
RB Adric Khaan vs MLB Tylar Jones Drew
Last week, Khaan was held under 100 total yards of offense. LSU was able to scheme around Khaan and limit his big play ability. This week, Khaan will have another tough task against the Boise defense, mainly Tylar Jones Drew. Drew so far on this year has 24 tackles and one interception. If Boise can limit Khaan this week, they might have a chance at winning.
QUOTABLE QUOTES
"Ya I am…. I'm hungry to get out and get our first win… not use to not losing lol…. Ohio has a damn good team top to bottom on both sides of the ball but so do we. We just gotta do our jobs and not over think things… Moss and that offense will move the ball just have to play a bit of a bend don't break style vs a high powered offense like them… We are 0-3 but could easily be 3-0 all of our games have been fights and we just haven't been able be on the right side of them." –Tylar Jones Drew on the excitement for tonights game.
"I think overall we played a pretty good game last week. If a few of the drops or other things went our way we would be sitting at 3-0. This week we plan to get back on track offensively, spreading the football around. We know how talented Boise is on the defensive side of the football but we are up for the challenge! We have THE best running back in the CFSL and he is going to show it tonight." – DJ Moss on their plan to bounce back after last week.
PREDICTION
No one could have predicted that Boise would be 0-3 right now. No one also predicted that OSU would lose last week on a onside recovery. But here we are. We have been waiting for Aidric Berry to have his "normal" game this season. If he can step up and lead this offense, and the defense is able to limit OSU's big plays, Boise can pull away in a close game.
Boise State 24, Ohio State 21